The Kansas City Chiefs were up late playing the Denver Broncos on Monday night, but that didn't stop them from making a difference in the community the very next day.
Chiefs President Mark Donovan, General Manager Brett Veach and linebackers Derrick Johnson, Kevin Pierre-Louis, Reggie Ragland, Terrance Smith and Ramik Wilson joined Lift Up America to feed the hungry in Kansas City on Tuesday by loading more than 30,000 pounds of food onto trucks bound for 60 local relief organizations.
The donation, courtesy of Tyson Foods, will amount to 25,000 meals for local families that might have gone hungry otherwise.
"It's really important to give back and to be a part of something," Johnson said. "This city loves the Chiefs, so giving back is what it's all about at the end of the day. If you're not trying to help anybody, you haven't done much in life. We, as an organization, always try to give back and always try to be involved when it comes to people in need."
The Chiefs joined area volunteers and members of the Summit Christian Academy football team in assisting Harvesters, an area food bank, with the distribution.
Harvesters serves 26 counties throughout the Kansas City area, in which nearly 375,000 people are food insecure.
Tuesday's event looked to do something about that.  
"The Chiefs are an inspiration to Harvesters," said Valerie Nicholson-Watson, President and CEO of Harvesters. "They are very supportive of our organization through food drives, donations, and things like today. It's huge, and we're proud to fly the Chiefs Kingdom flag."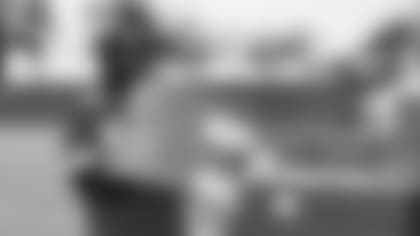 The event was all made possible through Lift Up America, which strives to bring people together in an effort to provide resources to those in need.
The Chiefs were the first professional sports organization to assist the movement during its beginnings as a pilot program in 2004, and have joined the initiative in each of the 14 years since.  
"Lift Up America has provided millions of meals since its inception, and it's been a partnership that we, as an organization, have been involved with from day one," Donovan said. "Clark Hunt, our Chairman and CEO, met with them early on, and here we are again today to once again provide relief to our region."
It was a quick turnaround for the players, who spent their only day off this week helping load trucks at the event, but it's one that was well worth it.
"It's all about giving back, regardless of if we're tired or hurting," Johnson said. "These people need something special, such as bringing food to their house. This is food that we take for granted every day and it's just great to be a part of this."
Members of the Chiefs Community Caring Team, including Mark Donovan, Brett Veach, and Chiefs Linebackers along with local volunteers, helped load more than 30,000 lbs of protein products by Tyson Foods for local organizations