Before the tour had even begun at the American Jazz Museum Wednesday afternoon, linebacker Dee Ford, already very familiar with the building, made his way to an area of it called the "Blue Room."
The "Blue Room," while honoring the history of Kansas City jazz with several exhibitions in it, also serves as an active club to this day.
Inside of it, next to a stage, sits a piano.
Ford, of course, couldn't resist.
"I always do that," he said. "Any time I see a piano, I touch it."
As has been well documented, one of Ford's favorite off-the-field activities is playing piano, which he believes has multiple benefits.
"It's another level of skill that I can actually take to the field," he explained. "That's one thing that actually mentally helps me pick up defenses … It's relaxing, but at the same time, it's still another level of knowledge, another level of brain power that you have because it's hard."
After playing for about 20 minutes or so, Ford joined Josh Mauga, James-Michael Johnson and the rest of the Chiefs linebacker corps at the Jazz Masters Exhibit, where the museum's tour docent, Karen E. Griffin, met them.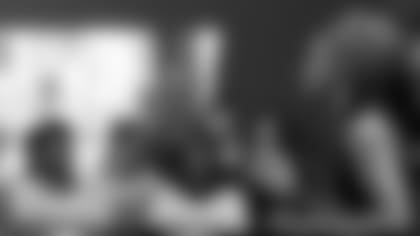 At the exhibit, the players welcomed in the Lincoln College Prep Academy football team and Griffin provided a short group presentation on jazz greats Louis Armstrong, Charlie "Bird" Parker, Duke Ellington and Ella Fitzgerald.
The players, both high school and professional, were then free to mingle and explore the different exhibits the museum had to offer.
Mauga really relished the time he was able to spend with the Lincoln players.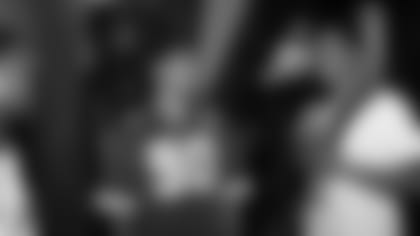 "It's been great," he said. "The kids have a lot of questions about how I made it, the high school days, how it was getting into college and it's pretty cool because I never get a chance to talk about my past and how I got here.
"Any information that I can give them to reach their goals, I'm trying my best to help them out."
Griffin, who grew up in Kansas City and actually attended Lincoln herself, recognized the magnitude of the impact the Chiefs could have on the young men in attendance.
"Lincoln high school students to pair up with the Kansas City Chiefs is a milestone," she said, before providing a fitting analogy.  "As you can see right now, these young men are mustard seeds. The information that all of players are feeding these children, they're watering them, weeding them and feeding them.
"I honor them for just taking time out of their schedule to feed these young men."
Before leaving, the groups gathered in the "Blue Room," the area where Ford had previously played piano, in order to give the high school students museum gift bags to part with.
Mauga, who had attempted to learn how to play piano in the past, commented on hearing Ford earlier in the day before he left.
"I've always wanted to play the piano and I've always had the hardest time trying to figure out how to do it," he laughed. "Seeing him play and making it look easy, I was a little jealous. I'm not going to lie."
---
The American Jazz Museum showcases the sights and sounds of jazz through interactive exhibits and films, the Changing Gallery exhibit space, Horace M. Peterson III Visitors Center, Blue Room jazz club and Gallery exhibit space, Horace M. Peterson III Visitors Center, Blue Room jazz club and Gem Theater.
The Kansas City Chiefs players joined Kansas City Public School students on an educational field trip to the American Jazz Museum.