Andrew from Seattle asks:
Hey BJ, it seems like the Chiefs are flying under the radar a little bit this year. Kind of odd for a team that went 9-7 and solidified all the areas of need—OL, run D and WR. Not to mention they improved the secondary. Why does it seem like they get almost no love?  
I can't speak for other teams, but I'm going to go ahead and try. I believe most NFL fan bases feel like their team doesn't get enough love. That's just the nature of being a passionate fan. But there have been a handful of national media members who have picked the Chiefs to win the AFC West in 2015, but a lot of fans only remember the ones who aren't picking them.
There is a lot of confidence from the players and coaching staff about this team and for good reason. They'll be challenged, but like you said, you have to feel really good about the moves they've made this offseason.
Based on what I've seen at training camp, the confidence is well justified.
Scott from Lee's Summit asks:
*Who makes the last 10 roster spots in the cuts to 53? *
They haven't even played a game yet! I won't even pretend to know.
Highlight videos on Chiefs.com show that DAT is not only lightning quick but fast as well. Do you think his route running has improved enough that he will draw comparisons to Antonio Brown this year?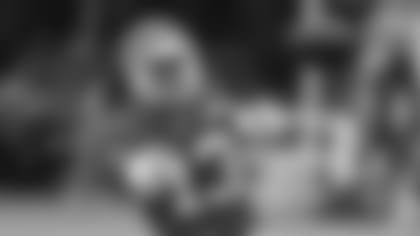 He's definitely not slow. But to make the jump from working with the receivers this year to being compared to the NFL's leading receiver in 2014—that's a lofty comparison.  
I've had the chance to watch DAT's speed up close and personal this year, and I think there's plenty of reason to be excited about what he can do in his second year. But I'd hold off on comparisons to a guy that's produced like Brown did last year at this point.
Seb from Albuquerque asks:
*What do you think the O-line looks like to start the season and will it be good enough to finish the season at a high level? *
Coach Reid has challenged the offensive line to be better. He's said as much. He'll play the best five guys is what he's consistently said.
He's rotated different combinations along the line throughout OTAs and training camp. Based on the past few practices, I believe it'll be Eric Fisher, Ben Grubbs, Mitch Morse, Zach Fulton and Jeff Allen from left to right to start the game. That's who has been working with the first-team offense for the last several days.
That doesn't mean it'll stay that way because it's definitely an area that's been given quality depth and provided competition this offseason.
If that group can play at a high level, this team will go far.
Dane from Pennsylvania asks:
What's the most important game on the schedule for the Chiefs?
Week 1. As coach Reid would say, "The next game is always the most important one."
Jackson from Topeka asks:
What are the Chiefs going to do without Dontari Poe?
Right now, Jaye Howard has been taking the reps at nose tackle for Poe.
I talked with Howard last week and he told me he's at 330 pounds, which is the heaviest he's ever been. He told me he's still as athletic though, which is a great sign for the Chiefs defense.
You can't replace Poe, but there are a number of talented players who can step in and make a difference for this defense. General manager John Dorsey and his staff have done a fantastic job at providing quality depth to this roster. As we saw last year, it's about that next man up philosophy.
Poe has been rehabbing with head athletic trainer Rick Burkholder and his staff, which is regarded as one of the best in the NFL. They're the same crew who helped Mike DeVito, Jeff Allen and Derrick Johnson get back to playing at a high level heading into 2015.
Mary from Dodge City asks:
Is Marcus Peters the real deal?
That's not going to be answered before he's ever played a game, but if he can consistently make the kinds of plays we've seen from him at training camp thus far, fans are going to be really, really happy.
He is just a rookie and despite days where he's making highlight-reel plays, there's still going to be an adjustment period for him.
Reid has challenged Peters to be consistent, which is exactly what he needs to do and then you'll like the answer to that question.