The Kansas City Chiefs are made up of a collection of dedicated professional athletes who are among the best at their craft in the world. It's something that requires immense time, effort and sacrifice to achieve.
Though impressive as a career in the National Football League is, several players in the Chiefs' locker room are much more than just football players – they're dads.  
The Chiefs took advantage of their day off from practice to remember that on Monday, as quarterback Alex Smith, fullback Anthony Sherman, linebacker Derrick Johnson, punter Dustin Colquitt, running back Spencer Ware and a handful of Chiefs Ambassadors brought their kids to a local arcade for an afternoon of family fun.  
"This was just a nice event for us to have a free day to play arcade games, bowl a little bit and spend some quality time with the kids," Sherman said. "It's tough in-season to get those days where you can spend a large chunk of time with them."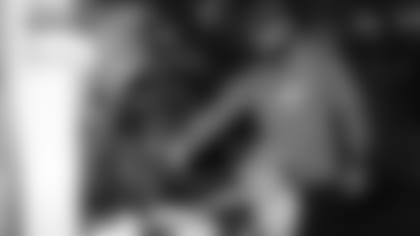 It was all part of the NFL Fatherhood Initiative, which strives to celebrate and support the dads that suit up on Sundays.
"It's hard for those of us that are fathers and that put a lot of time to football during the season," Smith said. "It's nice when you get some time off to balance that with other priorities in our lives."
With the demands of a football season in mind, the Chiefs have ample parenting resources at their disposal, including a licensed consultant on hand should the players ever need help.
"I'm just here to guide them if they need help and also just to let them know that they have that resource if they should need it," said Brieanna Claassen, the Chiefs' consultant. "They have such emphasis on their professional aspect of their lives, and this is a great opportunity for them to reconnect with another huge aspect of their lives, which is their families."
Monday's event was a chance for the Chiefs to do just that despite being right in the midst of another busy season.
"My family is very important to me, it's all I know," Smith said. "I'm just trying to be the best dad that I can be."