The legacy of Dr. Seuss is honored every March by way of Read Across America Day – which emphasizes the importance of reading in our schools – and for a 21st year, the Kansas City Chiefs helped lead that celebration.
Chiefs' players, executives, Ambassadors, Cheerleaders and Red Coaters volunteered their time across 10 locations on Friday afternoon, where they read children's books aloud for kids throughout the metro.
"I have a three-year-old at home, so I'm used to reading Dr. Seuss' books," said defensive tackle Xavier Williams, who visited Operation Breakthrough on Friday. "This was a really fun experience. I think the kids really enjoyed it and I had fun interacting with them. Hopefully, it shows them that reading is a fun thing to do and, as they get older, they'll keep doing it."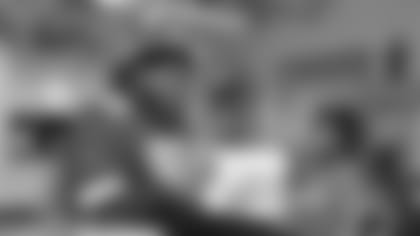 First celebrated in 1998, Read Across America Day encourages adults to promote reading among children. The Chiefs are a founding supporter of the nationwide program, which is sponsored by the National Education Association and annually coincides with Seuss' birthday.
It's a major initiative that Williams – along with the rest of the Chiefs' contingent throughout the city – certainly furthered on Friday.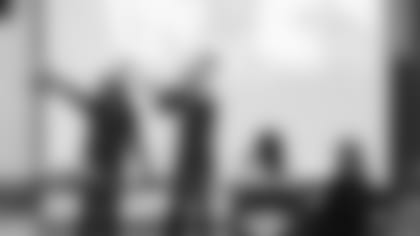 "It's so wonderful to have Xavier here," said Lee Duckett, Director of Marketing and Events at Operation Breakthrough. "We have a great relationship with the Chiefs – they always call us asking if they can bring a player by to read or do something with the kids – and even if the kids are little and don't understand what the Chiefs are, they know he's an important guy. To have him here is so special."
Spending time with those in the community is of particular importance to Williams, who is from Kansas City originally.
"I can always just relate a little bit more to these kids around here because I grew up in this community," Williams said. "It's always going to be a little closer to my heart because I'll always see myself in them a little bit more than if I were somewhere else."
With that in mind, Williams was one of several Chiefs' representatives that emphasized the importance of reading to dozens of local kids on Friday. It's a tool crucial to a successful life, and it begins right now.
"It's all about digesting information, and I think the more that you read, the better you get at it," Williams said. "It's just like football – practice makes perfect."