The weather couldn't have been nicer; the fans couldn't have been better and the Kansas City Chiefs offense couldn't have been sharper to start Saturday's practice, in front of a packed-house crowd on the campus of Missouri Western State University.
Chiefs head coach Andy Reid described the day, during his post-practice presser.
"It was a great turnout today, by the fans," coach Reid said.
"We appreciate that. The players feel that. I thought it was good work; both sides today were trading back and forth. There were a couple of live periods which were very important. We're trying to get all of these game situations taken care of before our first game here in about six days. We have to make sure we have that all figured out; it's very important. We had a move-the-ball period. We ran the ball a little bit more and I thought the guys handled it very well. Overall, it was a good day of work."
The good day started early for the Chiefs offense after QB Alex Smith took the snap and seconds later saw Chiefs WR Dexter McCluster behind the secondary, hitting him in stride with a pass that landed perfectly in his gloved hands.
"My job was to run as fast as I could," McCluster said of the play. "My number was called and Alex saw something in the defense, threw it up and I ran as fast as I could, concentrated, focused, caught it, touchdown; crowd goes wild!"
Following Saturday's practice, McCluster met with the media and was asked how many ways the team could get him the ball; "1,000,536 ways that I can get the football," McCluster said.
"This offense is wide open. You get opportunities everywhere, inside, outside, wherever; it's a fun offense. You have to be in shape."
In addition to Alex Smith playing well on Saturday, so did his back-up, Chiefs QB Chase Daniel, who connected with Chiefs rookie TE Travis Kelce for a score.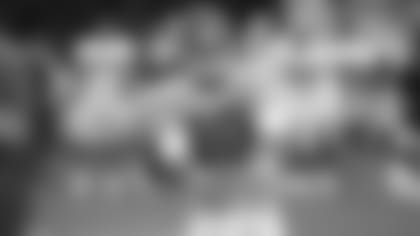 "The TD, it was actually Chase's call," Kelce said. "He audibled to it; it was a great call. I was wide open and I caught the ball and from there, it's just having fun and getting in the end zone."
Kelce showed a little flare with his TD dance, clearly enjoying the moment of celebration.
"Who doesn't?" Kelce asked. "It was Fan Appreciation Day; give them something to go out there and smile about, something to laugh at and just try and provide some excitement for the guys on offense."
Chase succeeded during 1-on-1 drills as well (WRs vs DBs), where he has been on-point with his wide outs, including Chiefs WR Tyler Shoemaker.
"Today was good," Shoemaker said. "Chase and I have been working on our chemistry and I think the more and more reps we get, it will continue to get stronger. I just have to know what he's thinking and he has to know what I'm feeling as I'm running routes and we make those plays."
As for other one-on-one battles at Chiefs practice, while watching the OL vs the DL, the dominance of a leaner, quicker Chiefs DT Dontari Poe continues.
"I'm trying my best to stay focused," Poe said. "Training camp in the NFL, there are a lot of things that can get you derailed and just fatigued period, which gets your mind off football and I'm just trying my best to stay focused  and stay in tune with the task ahead."
In a week that's seen back-and-forth battles between the Chiefs offense and defense, Poe spoke to the strengths of his collective D-line group.
"It's a great group," Poe said. "We're learning on the run. We have people like Chiefs DE Mike DeVito, who already knows the system and he walks us through it as a coach on the field. As a group, we're working hard, playing hard, learning fast and that's the best we can hope for at this point."
Behind the Chiefs defensive line is a linebacker group that is full of playmakers, including Chiefs LB Zac Diles, who is aggressively attacking the ball carrier and making his presence felt.
"(It's) a lot of fun out there, running around, making plays," Diles said. "Hitting people, that's what it's all about. We still have to get better though, still a lot of things to improve."
The Chiefs secondary is once again led by two-time Pro Bowler Eric Berry, who described the competitive environment at Chiefs Camp.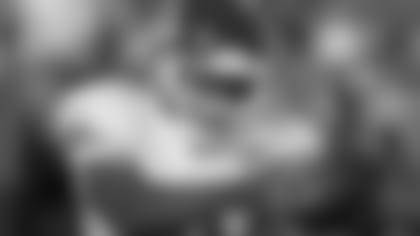 "I just love coming out here, because we're going to get a good shot from our offense every time," Berry said.
"Whether we win or lose, you best believe they are coming back on the next one. The same thing for a period; like yesterday, we had a pretty good day going against the offense and they pretty much came out and shredded us today. It's just always competition; we always have to be ready and that gives us the type of mentality we have to have going out on Sundays."
Eric also spoke about his newest teammate, OL Rokevious Watkins, who played on the same team as Berry at Creekside High School in Fairburn, Georiga.
"He's my brother," Berry said of Watkins. "We played high school ball together and we have hung out every day. He would eat with my family; my dad calls him his son and stuff like that, we're like brothers."
When Berry heard the news of Watkins joining the Chiefs, he was elated for several strong reasons.
"I was really excited," Berry said.
"I was upset that the (St. Louis) Rams had released him and (I) told him to keep focused and that it will work out for the best. When he ended up here, I told him to take advantage of the opportunity. Just the fact that we are in the league and on the same team, we have so many people back at home who look up to us and look to us as hope to get to a different level and get out of the situation they are in. We talk about it all the time, showing (people) back at home that you can get out of your situation. We are both going to take advantage of the situation."
Berry, Watkins and the rest of the Kansas City Chiefs return to the practice fields Sunday at 8:15 AM CDT, as they prepare for the matchup against the New Orleans Saints on Friday, August 9th at 7:00 PM CDT.