Andy Reid earned his first win with the Kansas City Chiefs three days ago, but it didn't take nearly that long for him, as well as his team, to start thinking about the upcoming home opponent on Sunday, the Dallas Cowboys.
"There's a lot of emphasis put on the first game within the league," coach Reid said during his Monday press conference. "I keep in perspective that it's one out of 16 games and hopefully more that you have an opportunity to play, so I understand that. On the other hand, I'll always tell you that you work your tail off to win every game, and that's what you do. So every victory you get, you're going to cherish and enjoy it for that small window that you get to enjoy it. To have won the first one of the year, it's great. I think as I was saying in the opening statement, it was neat to see the offense and the defense and the coaches; they were very excited. We also know that we enjoyed it and now we're moving on and getting ready for the Cowboys."
Typically, after a 26-point victory, you don't often hear players talking about areas they can improve on; the 2013 Chiefs aren't your typical team.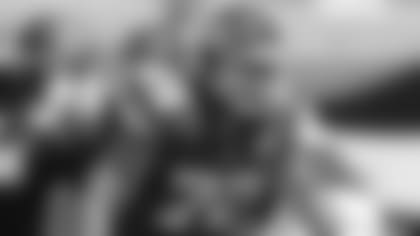 "I'm happy with the win and always eager to watch the film and try to get better off of a win," Chiefs QB Alex Smith said on Sunday. "That's the goal. We got the 'W', but we want to get better. "
Chiefs rookie right tackle Eric Fisher also spoke about getting in the film room.
"Film study is always great," Fisher said Sunday. "It makes you so much better of a player. You learn so much, so the more studying you can get in, the better and I'm looking forward to getting in there and learning more."
Fisher also evaluated his first regular season performance.
"(It's) Good to have a game under my belt and move on to the next one," Fisher said. "Learn from this one first and begin preparing for Dallas. I thought we played pretty well. Obviously, we can always do better and that's what we're going to strive for. So, we have to bring it all week and prepare for Dallas."
While the Chiefs didn't talk long about their win in Jacksonville, they did see it as a springboard heading into the much-anticipated home opener against the Dallas Cowboys.
"It gives us momentum going into next week," Chiefs WR Junior Hemingway said. "There are some things we need to work on as a team, but getting this win raises the morale for us. It will help us tremendously, going into next week. We have to come out and play good football."
On-field preparation for the Cowboys begins at 1:50 PM CDT today, when the Chiefs take to the practice fields at the University of Kansas Hospital Training Complex.