It's a skill and play that probably doesn't get enough credit, but it definitely helps win games, and the Kansas City Chiefs have one of the best to ever do it.
If Dustin Colquitt places four more punts inside an opponents' 20-yard line, he'll move into fourth place on the NFL's all-time list and have 400 for his career. He's currently ranked fifth with 396.
Colquitt, who was drafted by the Chiefs in the third round (No. 99) out of Tennessee in 2005, ranks fourth in franchise history with 191 games played.
If he's able to hit the 400-milestone, it's going to mean something to Colquitt, who spoke about it Thursday afternoon.
"It's been special that it's all come from the same place, same club, and a lot of them at Arrowhead," he explained. "It goes to show you that we've had a lot of great gunners that are downing balls, guys that are protecting and running down and getting guys inside the 20."
"It's almost like we just assume it's going to happen, and that's a good thing," Chiefs' special team's coordinator Dave Toub added. "It's hard enough to just take a ball and throw it and try to keep it in bounds. But he's doing it with his foot.
"He does it just like how a quarterback would drop it in there with his foot. It's amazing."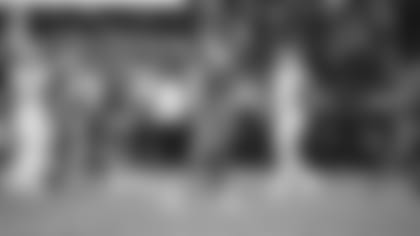 There are a handful of ways a punter can affect a game, and outside of bombing one from deep in your own territory to flip field position, another way is backing up an opposing offense near the goal line.
It's an area Colquitt obviously has mastered, and he explained that it was his father, Craig, who won two Super Bowl rings with the Pittsburgh Steelers during a seven-year NFL career, that first got him thinking about how this could have a huge effect on a game.
"It closes the offense's playbook," Colquitt recalls his dad telling him. "And once the rugby punt came in with Darren Bennett, Mike Scifres, and then Shane Lechler, it basically killed the rule of a return guy sitting on the 10-yard-line and not going back because now you have balls that are hitting at the seven and stopping inside the goal line."
The "rugby" punt is an end-over-end kick that looks like the punter is kicking the pointed end of the football, and it makes it easier for the ball to stop once it hits the ground, or at least not kick into the end zone like a traditional kick that spirals and turns over.
The difference is an offensive drive starting at the 7-yard line instead of the 20.
Consequently, it's tough for an offense to feel comfortable about their play calls when the quarterbacks' drop has him standing in the end zone on a passing play. The ability to back up offenses affects drives, and ultimately, can change games.
"I started doing it—or practicing—in 2007 and 2008, and didn't do it in a game until halfway through the '08 season," Colquitt explained. "I wanted to get it right before I put it up."
Colquitt said it was actually Scifres, who played 13 years with the Chargers and was one of the first to use this "rugby" style, who helped Colquitt know when he was ready to use this weapon that's come to define much of his career.
"He was very honest with me during pre-game's," Colquitt explained of Scifres and the two times they'd play the Chargers each year. "He would say it's not ready yet, and I appreciated it. I wanted that. He was really good at it, so I was like, 'OK, I'm putting it up.'"
With the potential of Colquitt achieving that milestone this Sunday against the Chargers, he said he has a few keepsakes in his home, including a pair of the cleats former Chiefs' center Casey Wiegmann wore during his 11,000-plus consecutive-snaps streak, but that he'll hopefully add another one soon—No. 400.
"This will be a cool deal," he said. "I'll definitely keep it."