The rifle-armed quarterback with an appetite for big plays and the audacity to consistently strive for them gave us the full experience of what he's about at Kansas City Chiefs rookie minicamp.
When first-round pick Patrick Mahomes  first took the field on Saturday—the first practice of his NFL career—there wasn't a member of the media in attendance whose eyes weren't on No. 15.
Over the past three days, every throw, every interaction with a coach or teammate, was being watched, analyzed and dissected.
"We saw him come in and improve every day that he was here with his verbiage and his footwork," Chiefs coach Andy Reid said of Mahomes on Monday afternoon at the conclusion of the three-day minicamp. "Does he have a ways to go? Absolutely. But the nice thing about him is that we found out that he likes to work and that's the big thing."
Mahomes echoed that same sentiment when he spoke with the media.
"It's definitely gotten a lot more comfortable getting through the process, seeing how to operate at the line of scrimmage," Mahomes explained. "I feel like with me and the other quarterbacks getting after each other, staying on top of each other, helping each other out, I felt like that has really helped me and improved me to being better every single day."
Besides just learning the playbook, which is a challenge in and of itself, the biggest questions Mahomes had to answer this week had to do with the footwork required to play quarterback in this offense—the drops from under center and how they're married to a particular play call, route, or coverage.
"That's a tough deal even if you've done it in college," Reid explained. "That's not part of that offense (at Texas Tech). To get the drop down, according to the play, which each play has a couple different options where you can go with the football, you have to read the coverage on top of it and the last part of it is that you have to know the guy that you're throwing to.
"You give a quarterback three to four years and they start really having a grasp on it—I'm talking about even veteran guys that come in with you. We throw a lot at them. You've got to get to know your receivers, you need to know all those routes and how they operate against all the coverages and then any adjustments we put in.
"It takes a little bit of time to do that."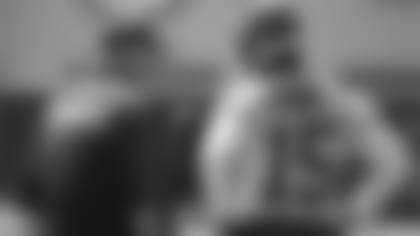 Even when it wasn't his turn for a rep, Mahomes was off to the side asking Reid questions about what he saw during a rep from another one of the quarterbacks—Joel Stave, to which Reid spent the entire next play talking to Mahomes off to the side, answering his question and seemingly serving as one of countless teaching moments for Mahomes over the past few days.
"He had great questions," Reid added. "He studies hard. If he doesn't know it, he's going to ask you and then he's going to go do it. He doesn't make the same mistake over and over. That's a plus."
"I'm pretty comfortable," Mahomes said of asking Reid questions—just three practices into his NFL career. "Coach [Reid] talks to me a lot, he's trying to push me every single day. With coach Reid, coach [Matt] Nagy and all of the offensive coaches, they've all stayed on me every single rep, do my own reps in the back by myself and everything like that.
"I'm just trying to be as perfect as I can be every single rep. You want to have every rep great, no rep lost, and if something is wrong coach will tell me and I can fix it for the next one."
Maybe above all else, the little things Mahomes displayed during the minicamp should be noted as well.
When Nagy relayed a call to Mahomes through the headset before a rep, Mahomes would enter the huddle—put his hands on the shoulders of his teammates and spit out the call, and then make sure his teammates were lined in the correct places.
It's a small deal, but the relaxed nature in which Mahomes entered the huddle showed a comfortability with his role as the guy everyone is following—the guy who was leading them through this minicamp.
"Great quarterbacks make everyone around them better," Reid explained. "They take charge of that huddle and if an alignment is not right, which you saw [Mahomes] out there moving guys around, you've got to be able to do that. You've got to make all the guys in that huddle better."
That's the nature of the quarterback position as a whole, and whether it's natural or intentional, that's the kind of thing you wanted to see from Mahomes, just like the fact that he stayed after practice on Saturday to get some extra work in with a few of his receivers.
Coming off a season in which he threw for more than 5,000 yards with 41 touchdowns at Texas Tech, there's little questioning Mahomes' natural arm talent, which was talked about all throughout the draft process and showed itself at this camp.
On Monday afternoon, Mahomes threw a handful of beautiful passes that we've all come to expect after watching his highlight reels, but he also threw a handful of passes that were either deflected or intercepted by the defense in red zone work.
"Those windows close a little bit tighter now so you've got to really be tight with your mechanics, get the ball out and hit him," Mahomes explained after practice.
As to what happened on those particular plays, the answers aren't always as clear as they might appear. The players are working off playbooks they've had for just a few days, and trying to decipher if a route was incorrect or a pass was errant isn't as easy as one might think in these conditions.
Mahomes will spend the next week back home in Texas before returning to join his veteran teammates next week.
"I'm going to go work out and study as much as I can, try to stay on top of things," he said. "The older guys, the veterans are still practicing, still doing their stuff. I've got to make sure I'm up to speed when I get here next week."