It's a condition that affects one in every ten African-Americans and there's no known cure, though many have never heard of it.
It's called sickle cell anemia - a blood condition that restricts the flow of oxygen in the body – and Kansas City Chiefs' tailback Spencer Ware is dedicated to stopping it.
"A lot of people in my family, most importantly my mom, have sickle cell anemia," Ware explained back in April. "It's something that's affected people really close to me. I carry the trait and I know some other players that are dealing with it, too."
Ware carries the trait, meaning he doesn't have any medical issues himself, but he can pass along the disease genetically and the Chiefs' athletic training staff still has to take preventive measures such as watching his training, hydration and activity at altitude.
His mother, meanwhile, actually has the disease and has had to adjust her life accordingly.
In fact, Ware explained back in April that the condition limits his mother's ability to attend games in Kansas City – something that motivated the veteran running back to create his own foundation this offseason focused on creating awareness surrounding sickle cell.
"My foundation is about bringing awareness to certain things that get overlooked sometimes, and this is one of those diseases that gets overlooked," Ware said on Sunday. "There's just not enough information out there to help people understand what they need to do to get better."
That mission continued on Sunday, as Ware opted to invite several families just like his own up to Training Camp for a front-row seat of practice.
"I just want to give back," Ware said. "My family is affected by this as well, so there's a close relationship there. It's a bond."
Ware strengthened that bond following practice, as he met the group for lunch and made a point of getting to know each individual in attendance.
"It brings a smile to my face because I know how it affects families," Ware said. "You want them to try and live as normal a life as possible, and it's about not giving up. You're going to have bad days, just like in life, but it translates to why I throw up my fours when I'm out there on the field and giving it my all."
Ware flashes four fingers after touchdowns in recognition of "the four stages of life," which he defines as birth, adolescence, adulthood and old age.
"It's just a reminder of my mom and the sacrifices that she's made, the people in my family and for the other people that are out there that need something to believe in," Ware said. "It doesn't matter what phase you're in – you just have to continue fighting."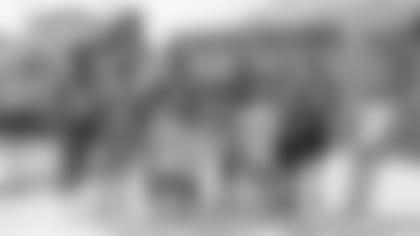 That fight is critical, as many young people dealing with the disease struggle to make the transition into adulthood.
"You have people not making it out of their teens," Ware said. "That's only two phases, so what do you tell a person, a child or a parent to get them out of that second phase onto adulthood with sickle cell? That's where my foundation wants to help. If they've been in a hospital for most of their childhood and they lack the education to get a job, to have a family, to own their own house and car – to live that normal life – I want my foundation to support those families."
Ware wasn't alone in that effort on Sunday, as fellow tailback Kerwynn Williams also stopped by to offer his support. Like Ware, Williams' mother has the disease.
"It's a huge thing that Spencer is doing this because there's not a lot of education about it," Williams said. "I think it's important to share your personal experience and show that it's possible for people to accomplish their dreams with the disease. People see it as a detriment – but just seeing what my mom has gone through, it's something that's inspired me to continue to do what I do."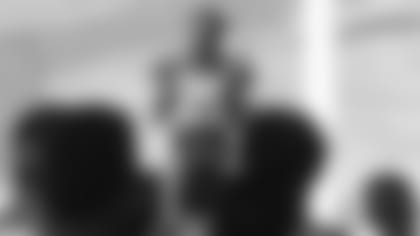 Both players demonstrated that inspiration on Sunday, as they spent nearly an hour with the visiting families while still in their full pads.
It was all just another example of Ware's commitment to opening up a dialogue about sickle cell and those that it affects.
"Do your research, get tested for it and see if you have the trait, because if you do, your child could have the disease. We need to be talking about it, because [those affected] definitely need our support," Ware said. "You have to believe in the fight. That's what these kids with sickle cell are doing each and every day, and I want to be the person that's there for them."