It's easy to forget that the NFL's current leader in total yards from scrimmage among running backs —Kansas City Chiefs running back Spencer Ware—was out of football just two years ago.
The Seattle Seahawks released Ware at the end of the 2014 preseason, and he didn't get another opportunity until the Chiefs called later that December.
At 23 years old, a healthy Ware, who had been a sixth-round pick by the Seahawks out of LSU in 2013 and carried the ball three times for 10 yards as a rookie, had missed an entire season of football.
He still remembers the day—December 30. He was heading home from a workout when he got the news that he had an opportunity with the Chiefs.
"A lot of prayer, a lot of believing, a lot of support from my family," Ware explained of how he dealt with that time away from the game. "You just never know. You've just got to keep preparing and just keep believing in yourself and just be ready when it's your time."
Ware's belief in himself on the football field began at an early age, and the physicality he displays on the field now developed for him as a kid growing up in Ohio.
"It started when I first began playing football," he explained. "The team that I played with at that age—they were some pretty hard guys. They were out there for a purpose and had something on their mind, and just seeing them, that made me feel nervous, threatened. So it was like hit them before they hit me.
"Once I felt how it would be to lay one of them out, I was like, I can pretty much do it to anybody or at least try to. I just believed in myself that I would be able to at least defend myself."
There was a particular day at practice Ware remembered it all coming together.
"We had a hitting drill where both guys have got their backs towards each other, and coach would blow the whistle and you turn around and hit," Ware recalled. "We were doing it for decals. So every big play or big hit, you get a decal on your helmet. It was like black skulls, red skulls, things like that.
"I went through the whole line dropping guys one by one. I didn't know how I was doing it, or where it was coming from, I just knew it was happening. So from that point on, here we are."
Fast forward a decade or so and general manager John Dorsey and his staff look pretty smart for picking up a player off the street that's put together the kind of production we've seen from Ware.
In 11 games last year after getting called up from the practice squad when Jamaal Charles went down with the knee injury, Ware touched the ball 78 times for 408 yards and six touchdowns.
He was one of the catalysts for a franchise-best 10-game regular-season winning streak and routinely had defensive backs making "business decisions" after they had a chance to see what he did to some of their peers on film.
Through three games this year, Ware has already logged 51 touches and 387 total yards of offense, which leads all NFL running backs.
It's not just grinding out yards either. Ware has playmaking ability with 10 plays resulting in gains of 13 yards or more so far this season, including four catches that have gone for 20 yards or more.
The one-time fullback has four of the five longest pass plays of the season for the Chiefs offense.
"He's worked very hard, getting himself right," Chiefs head coach Andy Reid explained. "Remember he started off as a fullback, so he put on some weight and then he was thrown in as a half back holding all of that weight. This offseason he kicked himself down to what you'd be as a tailback and is productive here.
"He's just kind of a worker. Come to work with a lunch pail and go do your thing—tough kid."
To this day, Ware will still randomly text Dorsey to let him know he's thankful—even after signing a contract extension this past offseason.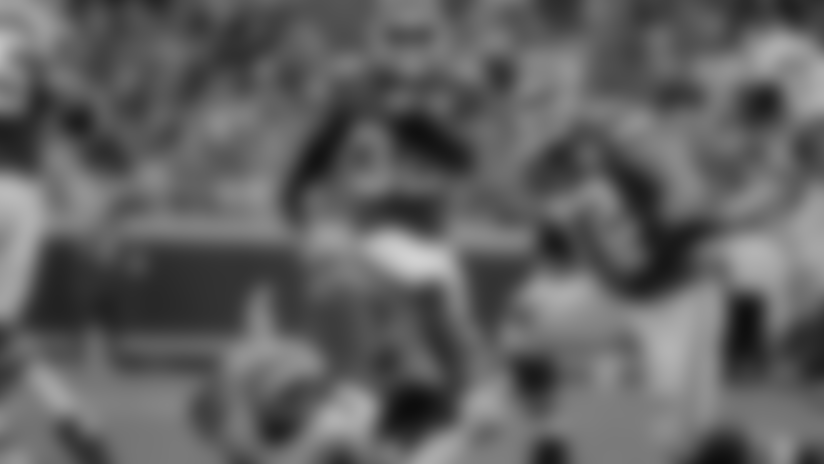 Ware's approach now that he's been the team's workhorse in the backfield early this season hasn't changed much even going back to his time on the practice squad, and his teammates have noticed his growth as a player.
"It's funny that those days seem so long ago even though they aren't," quarterback Alex Smith recalled of Ware joining the team for the 2014 offseason. "He was just so eager I think to be involved. I just remember thinking through that whole process what a really good teammate he'd been through all of those phases—all of those roles he had and how much pride he took in all of that—how much he enjoyed all of them.
"I think now—guys look to him for that spark. Not just in his play, but even in his attitude and the mindset that he brings to the huddle. I think it's contagious. I think a lot of guys feed off of it, and it certainly is the way he plays and the spark he provides there—the physicality, the will, the effort."
The player whose will and effort is now being praised at the highest level of football in the world—developed through the threat of physicality against him as a kid—will step under the lights on Sunday Night Football for the first time in his career against the Pittsburgh Steelers.
"I'm really looking forward to it," Ware explained. "I've never been in this situation before. Just have to prepare like it's just another game. Can't worry about the lights, the stage, can't let it overwhelm you. Like I said before, where I've matured over the years is controlling my emotions. Those are those kinds of situations to where you have to be, 'This is just a game.' "So all that hype and stuff that comes around, you just prepare and do what you do."