They devote their lives to protecting those that they've never met, selflessly stepping forward to defend all that we hold dear in this country.
These individuals don't join the service for recognition or fame, it's just simply what they feel called to do, forgoing personal ambition in the private sector to become a part of something much larger than themselves.
They're the brave few who make up our Armed Forces, and some of the nation's very best are stationed right here in Chiefs Kingdom.
The Chiefs have a rich history of supporting our men and women in uniform throughout the years, and that tradition continues this season through the "Tribute to the Troops" program at GEHA Field at Arrowhead Stadium, which recognizes the real heroes in our community during every home game.
That initiative continues on Sunday night, as Airman First Class Matthew Posey will be recognized as the "Tribute to the Troops" honoree presented by Crown Royal during the Chiefs' matchup with the Denver Broncos.
A relatively new member of our Armed Forces, Posey joined the Air Force last spring after contemplating a career in the military for much of his life.
"It was always in the back of my mind," Posey said. "My dad was in the Army, my grandad was a Marine in Vietnam and my other grandad was in the Korean War. It's always been in the back of my mind, and when I got out of college, I figured that it was my turn to make something more of myself and see where it went."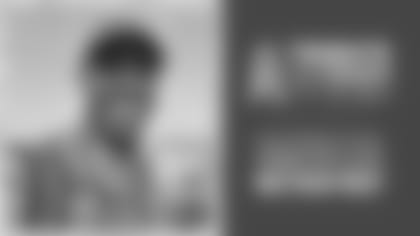 Posey has enjoyed a busy first year, completing basic training and a three-month stint in Texas for Technical School before heading to Offutt Air Force Base in Nebraska. He's had an opportunity to demonstrate immense leadership potential in that time, and looking forward, Posey hopes to make a name for himself as a career military man.
"I want to become a Staff Sergeant within the next four years, and if I'm not there, I want to be close," Posey said. "I want to do this for 20 years, and the big goal for me is to become either a Master Sergeant or a Chief Master Sergeant. Those are the higher-tier ranks in the enlisted bracket."
It's a goal that's rooted in Posey's desire to lead and to be there for others. An active participant in community service initiatives for much of his life, Posey wants to be an ally for those dealing with whatever difficulties they may be facing.
"Some people experience bullying and don't have someone there for them. I was one of those kids growing up, but as I got older, I started to be a mentor to younger kids in high school," Posey explained. "I wanted to be somebody who could give advice and help. You never know when someone is hurting, and that mindset has continued for me in the military."
Posey has put those words into action numerous times, whether it be as an active member of his community by assisting with the annual "Turkey Trot" in Omaha or simply by being there for his fellow soldiers. It all gets back to Posey's eagerness to lead, and as he continues to show what he can do in the Air Force, it's clear that Posey is exactly where he's supposed to be.
"It feels like this is what I'm meant to be doing," Posey said. "To be in a leadership role and to actually help people in the military feels like something I'm just born to do."