They devote their lives to protecting those that they've never met, selflessly stepping forward to defend all that we hold dear in this country.
These individuals don't join the service for recognition or fame, it's just simply what they feel called to do, forgoing personal ambition in the private sector to become a part of something much larger than themselves.
They're the brave few who make up our Armed Forces, and some of the nation's very best are stationed right here in Chiefs Kingdom.
The Chiefs have a rich history of supporting our men and women in uniform throughout the years, and that tradition has continued this season through the "Tribute to the Troops" program at GEHA Field at Arrowhead Stadium, which recognizes the real heroes in our community during every home game.
That initiative will take place once again on Sunday, as COL Rich Satterlund will be recognized as the "Tribute to the Troops" honoree presented by Crown Royal during the Chiefs' AFC Championship Game clash with the Cincinnati Bengals.
A fourth-generation member of our Armed Forces, COL Satterlund – despite some initial hesitations – chose a career in the Army after realizing that it was simply where he was meant to be.
"Initially, I didn't know if I wanted to join. I thought I'd go to college and see what interested me, but as I got there, nothing really clicked with me," COL Satterlund said. "I don't know why, but I woke up one morning and decided that I was going to try the Army and see what it was about. As I got in, everything fit. There was something about the camaraderie and the sense of the family that made me feel like I belonged. It fit a lot with my life and my beliefs. I just really loved it, so I stayed."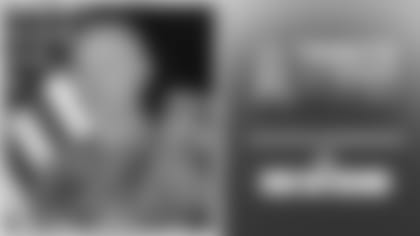 COL Satterlund – who was commissioned as an Infantry Officer in 2000 – went on to hold various leadership and staff positions during his career, from platoon through brigade levels and inside Ranger, light and Stryker Infantry formations. He's also a graduate of the Army War College program at Fort Leavenworth, where he earned a second masters in Strategy and Policy.
In addition to those achievements, COL Satterlund has completed more than 15 combat deployments, shipping off to Bosnia, Tunisia, Afghanistan and Iraq over a span of more than two decades. Many of those deployments were as an Army Ranger, which meant repeated, four-month tours during the height of the Global War on Terror.
"There was still a very strong sense amongst the community that we were doing this to prevent another 9/11 from happening on our soil," COL Satterlund said. "I have three children, and for me, I didn't only feel like I was fighting for my country – I was fighting to protect their way of life. We really felt that what we were doing was preventing something like that from happening again. It felt very personal."
COL Satterlund put his own safety on the line numerous times in pursuit of that goal, earning three Bronze Star medals (1 for valor), 16 Army Commendation Medals (3 for valor) and a Purple Heart among several other awards for bravery in combat. It's uncommon for an officer to be in the position to be so highly decorated for valorous acts of courage in the field, but COL Satterlund's many selfless acts of courage are reflective of a man dedicated to those under his command.
"I built such a strong bond with my company, and when you have that kind of connection, you don't see them as soldiers, NCOs or officers, you see them as somebody's son or somebody's daughter," COL Satterlund said. "It was my philosophy that whenever we were in a firefight, I was going to get to the point of friction. I wanted to make decisions fully knowing and seeing what was going on. I wanted to share the same risks and dangers that my people were, because they're no different than me."
Quite simply, COL Satterlund is a prime example of what the "Tribute to the Troops" program is all about. The man has sacrificed so much in order to protect our way of life, and while that meant considerable time away from his family over the years, COL Satterlund will have an opportunity to share his experience on Sunday with his son, Hoyt, who will be celebrating his eighth birthday.
"When the Chiefs first called me, I was hesitant because the game is on my son's birthday. I've missed so many birthdays, Christmases and Thanksgivings, but that's when they told me that I should just bring Hoyt," COL Satterlund said. "It's going to be an amazing experience, and I hope Hoyt can feel in that moment that all the time and service that I put in was so that he can do stuff like this. He won't fully understand, but I'm just ecstatic that I'll be there with my son, and all of that work – everything I believe in – will have come full circle."