They devote their lives to protecting those that they've never met, selflessly stepping forward to defend all that we hold dear in this country.
These individuals don't join the service for recognition or fame, it's just simply what they feel called to do, forgoing personal ambition in the private sector to become a part of something much larger than themselves.
They're the brave few who make up our Armed Forces, and some of the nation's very best are stationed right here in Chiefs Kingdom.
The Chiefs have a rich history of supporting our men and women in uniform throughout the years, and while the traditional "Salute to Service" programming can't take place at Arrowhead Stadium this year due to the COVID-19 pandemic, the organization is still doing its part to recognize the real heroes in our community.
That continued last week, as Sgt. Caleb Ash was recognized as the Chiefs' "Salute to Service" honoree presented by Crown Royal during Sunday night's game against the Denver Broncos.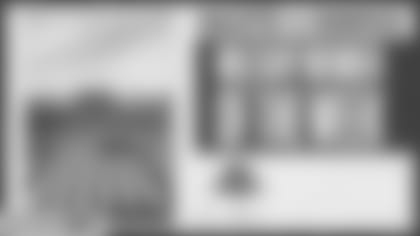 Sgt. Ash, a member of the Kansas Army National Guard, has been deployed to Afghanistan twice (2010-11, 2012) and Kuwait (2018-19) in addition to passing sniper school and Army Rangers school during his time in the service.
He's done it all, and ever since his childhood, this was always the plan.
"It's like one of those things where you want to be a cowboy or a soldier where you grow up," Sgt. Ash said. "I legitimately wanted to be both of those things and I became both of those things."
And while Sgt. Ash always dreamed of being a soldier, it was his father's decision to enlist at the age of 40 that encouraged him even further.
"My father decided to join at 40 years old and he's done three deployments since – one to Iraq, one to Afghanistan and one to Kuwait. That was a big motivator," Sgt. Ash said. "It was something I wanted to do before that, but if he can do it at the age of 40, then I can, too."
He's clearly left an impression on others, too, as Sgt. Ash was selected by his superiors to be last week's Salute to Service honoree. He couldn't actually attend the game, however, as he was defending his title in the national sniper competition that he won back in February.
The competition is one of several experiences that Sgt. Ash cherishes during his time in the service, and from growing up dreaming of being a soldier to now actually living it, it's the remarkable people around him who continue to impress Sgt. Ash most.
"I've gotten to do quite a few things I would have never had the opportunity to do otherwise. I've seen so many places and met so many unique people," Sgt. Ash said. "The service is the most extreme example of a melting pot that you can possibly have. You have people from every color and gender in every position. Anybody is capable of anything."