They devote their lives to protecting those that they've never met, selflessly stepping forward to defend all that we hold dear in this country.
These individuals don't join the service for recognition or fame, it's just simply what they feel called to do, forgoing personal ambition in the private sector to become a part of something much larger than themselves.
They're the brave few who make up our Armed Forces, and some of the nation's very best are stationed right here in Chiefs Kingdom.
The Chiefs have a rich history of supporting our men and women in uniform throughout the years, and one of the ways that tradition is celebrated this season is through the "Tribute to the Troops" program at GEHA Field at Arrowhead Stadium, which recognizes the real heroes in our community during every home game.
That initiative continues on Sunday, as SrA Bryan Gonzalez will be recognized as the "Tribute to the Troops" honoree presented by Crown Royal during the Chiefs' matchup with the Denver Broncos.
A three-year veteran of the Air Force, Gonzalez didn't waste any time joining our nation's Armed Forces as soon as he was able.
"I was 17 years old when I raised my right hand. I was still a minor, so I needed my parents to sign off," Gonzalez said. "I had a cousin who joined the Air Force, and he loved it. He served seven years, and ever since I was young, I wanted to join the military. I didn't know which branch, but once I spoke with my cousin about his experience in the Air Force, I decided to follow in his footsteps."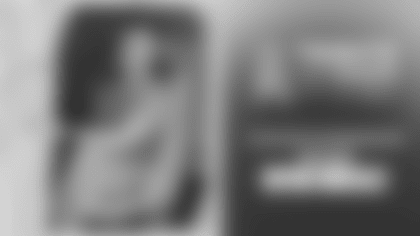 Gonzalez, who currently serves as the Fitness Operations Manager at nearby Whiteman Air Force Base, recently returned from a seven-month deployment to Kuwait as part of Operations Spartan Shield and Inherent Resolve. His primary responsibility while overseas was as a shift leader for a dining facility, but it was his desire to go above and beyond his specific role that protected millions of dollars in valuable assets and perhaps several lives.
"It wasn't necessarily my job, but I would routinely go around and check in on the various warehouses and storage rooms that we had, and one day, I noticed a package that looked suspicious. So, I called a buddy of mine who was an explosive disposal technician, and sure thing, it ended up being an [improvised explosive device]," Gonzalez said. "We receive routine truck deliveries, and this was on one of the trucks. It was a lethal threat."
He was awarded the Air and Space Commendation Medal for his efforts that day, which safeguarded $6.9 million in critical assets. The honor also recognized Gonzalez for his unrelated role in preparing and preserving two soldiers who were killed in action for the journey back home.
"Within my squadron, we're in charge of mortuary affairs. That means that whenever someone is killed overseas, it's our responsibility to preserve their body and prepare it for a long flight back to the United States," Gonzalez said. "Unfortunately, during my deployment, we had two soldiers who were killed, so I was part of the team that preserved their bodies."
Through those actions and numerous others, Gonzalez is a tremendous example of the best our nation has to offer. A member of our Armed Forces since he was 17 years old, he is one of the thousands of individuals who performs the critical tasks necessary to make our military function as it does. In addition to that, he has also demonstrated a resolve to go beyond his job description in order to do his part.
It's because of Airmen like Gonzalez that those of us in the private sector can enjoy Sundays at GEHA Field at Arrowhead Stadium, and as the Chiefs take on the Broncos this weekend, the fans in attendance will have an opportunity to show him their appreciation.
"Being a part of Team Whiteman and directly supporting and executing the Nuclear and Global Strike mission means so much to me," Gonzalez said. "The work Team Whiteman accomplishes day-to-day often goes without much saying to the public eye, so having such a supportive team such as the Chiefs and their community is so very humbling."