They devote their lives to protecting those that they've never met, selflessly stepping forward to defend all that we hold dear in this country.
These individuals don't join the service for recognition or fame, it's just simply what they feel called to do, forgoing personal ambition in the private sector to become a part of something much larger than themselves.
They're the brave few who make up our Armed Forces, and some of the nation's very best are stationed right here in Chiefs Kingdom.
The Chiefs have a rich history of supporting our men and women in uniform throughout the years, and that tradition will continue this season through the "Tribute to the Troops" program at GEHA Field at Arrowhead Stadium, which will recognize the real heroes in our community during every home game.
That initiative continues on Sunday, as Staff Sgt. Janina Felka-Burns will be recognized as the "Tribute to the Troops" honoree presented by Crown Royal during the Chiefs' season-opener against the Cleveland Browns.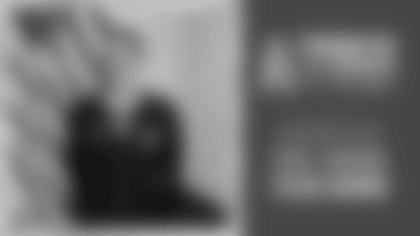 A native of Germany, Staff Sgt. Felka-Burns moved to the United States in 2010 after meeting her husband – an active-duty member of the U.S. Army – while he was stationed in Europe. The couple relocated to New York upon their arrival stateside, and two years later, Staff Sgt. Felka-Burns decided she wanted to serve her adoptive country.
"My dad was in the German Air Force and worked for NATO, so I've always been around the military, and that was actually part of why I joined the National Guard," Staff Sgt. Felka-Burns said. "I had been around the military all my life, but I had never experienced being in it."
Staff Sgt. Felka-Burns went through basic training and proceeded to focus on health care, which continues to be her area of emphasis within the National Guard. In fact, she currently serves as the Holistic Health and Fitness Project Manager for the state of Kansas.
"Basically, we're developing a program specifically for the Kansas National Guard to prevent and reduce injuries for soldiers through training," Staff Sgt. Felka-Burns explained. "Additionally, if they're already hurt, it's about rehabilitation. We want to rehabilitate those soldiers and keep them in the guard while helping them have better longevity."
Her efforts also center around education from a holistic approach by teaching soldiers the importance of nutrition, sleep, and mental readiness. Essentially, her role is all about assisting those who are defending our country to lead healthy lives.
It's a noble and critically necessary profession that epitomizes what Staff Sgt. Felka-Burns is all about. She wasn't born in the United States, but upon moving to her new home, she chose to do what she could to defend it.
"It was just something that I felt was the right thing to do. The U.S. has been my home since 2010, and I've always felt a connection to the patriotism that the U.S. has," Staff Sgt. Felka-Burns said. "I joined the National Guard to help defend that and to do my part to preserve it."