They devote their lives to protecting those that they've never met, selflessly stepping forward to defend all that we hold dear in this country.
These individuals don't join the service for recognition or fame, it's just simply what they feel called to do, forgoing personal ambition to become a part of something much larger than themselves.
They're the brave few who make up our Armed Forces, and some of our nation's very best are right here in Chiefs Kingdom.
The Chiefs have a rich history of supporting our men and women in uniform throughout the years, including through the "Tribute to the Troops" program at GEHA Field at Arrowhead Stadium, which recognizes the real heroes in our community during every home game.
That initiative took place once again earlier this month, as Lt. Col. John Marks was recognized as the "Tribute to the Troops" honoree presented by Crown Royal during the Chiefs' matchup with the Denver Broncos.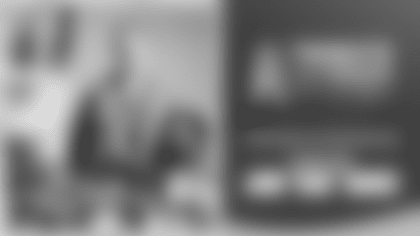 A 36-year veteran of the Air Force, Lt. Col. Marks has earned 18 air medals, 11 aerial achievement medals, the Bronze Star and the Distinguished Flying Cross over the course of an exemplary career that has included 13 combat deployments overseas.
He owns the most hours of flying time – more than 7,300 – of any pilot in the Air Force behind the controls of the A-10 "Warthog" Thunderbolt II aircraft, and for the last 22 years, Lt. Col. Marks has served just down the road at Whiteman Air Force Base as a member of the 303rd Fighter Squadron.
Quite simply, Lt. Col. Marks has made defending our country from above his life's work, fulfilling a dream that began when he was just a kid.
"I wanted to fly, and I really wanted to fly fighter aircraft," said Lt. Col. Marks. "My grandfather was very much an aviation enthusiast, and we used to go out to the airport in St. Louis – Lambert Field – and watch airplanes take off and land. I think I probably picked it up from him, and from as early as I can remember, that's what I wanted to do."
Lt. Col. Marks went on to make those aspirations a reality when he joined the Air Force in 1987, and after growing enamored with the A-10 "Warthog" Thunderbolt II aircraft as a teenager, it was only fitting that he was assigned to the single-seat attack plane following his pilot training.
"That was definitely a memorable night when I got assigned to the A-10," Lt. Col. Marks said. "I remember being in high school and thinking what a neat airplane it was, so to then actually get to fly it was pretty hard to believe."
He clearly showed an aptitude for it, too, as Lt. Col. Marks later piloted the A-10 as part of 13 deployments that spanned more than a decade, from Operation Desert Storm in Iraq to Operation Enduring Freedom/Inherent Resolve in Afghanistan.
Specifically, throughout his time overseas, Lt. Col. Marks was tasked with delivering low-altitude air support to troops on the ground who were entering combat zones. That role meant that often times, in contrast to other pilots in the Air Force, Lt. Col. Marks would later interact with the individuals that he assisted from above.
"One thing that made us different was that we had an opportunity to meet directly with the people that we supported," Lt. Col. Marks explained. "There was nothing like being sought out by the guys that you just supported in battle and for them to say, 'Man, you guys pulled us out of a tough spot.' That happened numerous times in Afghanistan. That personal relationship – knowing the guys by name – was special."
Lt. Col. Marks, who transitioned to the Air Force's 303rd Fighter Squadron located at Whiteman Air Force Base in 2001, now has one year of flying left before hitting the mandatory retirement age of 60. He has truly dedicated his life to defending our nation from above, and as the Chiefs took on the Broncos, he was able to feel that appreciation – ironically, while standing nine stories up in the air – from the fans in attendance.
"I definitely feel like I'm the luckiest guy on the face of the planet sometimes," said Lt. Col. Marks. "To bring my family out to the game and experience that, I just couldn't be more appreciative. I am so thankful for the opportunity to do all of these things, and I just have so much gratitude for how fortunate I have been."