The only thing that could steal headlines from the record-breaking performance by Chiefs RB Jamaal Charles on Sunday, which earned him the AFC Offensive Player of the Week Award, is the story he also helped star in, during the last year, perhaps best titled Chiefs Redemption: A Return to the Playoffs.
Just over one year ago, the Kansas City Chiefs were held scoreless in a 15-0 loss to the Oakland Raiders, moving the team to 2-12 for the season; two weeks later, the Chiefs finished 2012 with a 2-14 record.
Exactly eight days later, Chiefs Chairman and CEO Clark Hunt introduced Andy Reid as the team's 13th head coach in club history. One week later, Chiefs general manager John Dorsey was hired and a dynamic duo was formed to join Hunt and team president Mark Donovan to steer the Chiefs ship back to its winning ways.
335 days after Dorsey signed the dotted line, completing the new-look brain trust, the Chiefs returned to the "Black Hole" in Oakland and handed the Raiders a 56-31 loss, moving to 11-3 on the season and earning a guaranteed spot in the playoffs.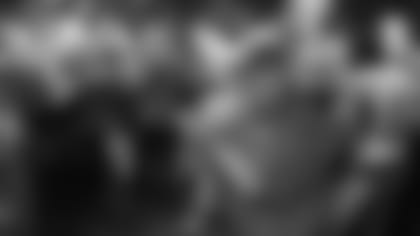 Following the win, Hunt spoke on the collective effort by everyone within the Chiefs organization.
"The entire group in that locker room, whether we're talking about the players, the coaching staff, the front office, they're all very tight and they work extremely well together," Hunt said. "One of the special things about this win today was, it was a team victory; the offense contributed, the defense contributed and special teams contributed; that's really the same way it is with the entire Chiefs organization, we all work together for a common goal and I'm so happy that we were able to take one of those steps today, clinching the playoff spot."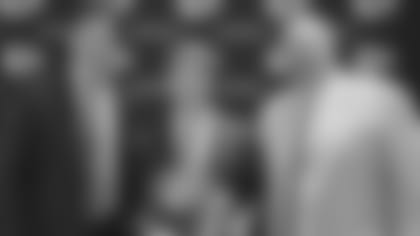 With Sunday's win in Oakland, the Chiefs extend the largest single-season turnaround in franchise history (nine games), giving their head coach another trip to the NFL's postseason; Andy Reid's teams have qualified for the playoffs in 10 of his 15 seasons.
"We had very high expectations," Hunt said. "We were fortunate enough to convince coach Reid to come to Kansas City; we don't think anybody could've anticipated how quickly the team would turn and have the type of success that we've had this year, whether it was the 9-0 start or clinching the playoffs, but certainly, he and the coaching staff deserve a lot of the credit for it. And also, I have to mention John Dorsey and the tremendous job that he did in assembling the people in that locker room; they went out there and got it done today."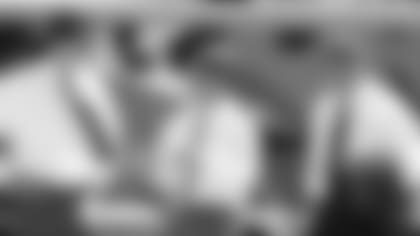 Overshadowed in the franchise makeover is the chemistry that exists between, Mark Donovan, Andy Reid and John Dorsey, who have locked arms to help accomplish Clark Hunt's mission.
"I think it's awesome," Dorsey said. "Clark has a vision and what Mark, myself and Andy have to do is, we have to execute that vision that Clark has and we're all willing to do that. I understand what Mark has to do, he understands what I have to do, he understands what Andy has to do and vice versa. So, everybody respects everybody's unique abilities and their responsibilities in what they have to do. But, it's a little bit more than that, because there is also a friendship here and, as you know, as any good working environment, any good organization has got a good line of communication and I think that starts from the top. I think Mark, myself and Andy, I think we have wonderful relationships, there's a professional and a personal relationship that I have with both of those guys. I consider them friends and it's a joy to come to work every day. We're trying to do something to make the organization better, every day."
Like Dorsey and Mark Donovan, Andy Reid is quick to point out several factors involved in the team's historic turnaround at One Arrowhead Drive.
"The people in this building here, number one, and the great effort that they have put in and I'm saying the whole organization," coach Reid said. "It starts with Clark Hunt and the Hunt family. We've all pulled together as an organization and that has contributed to the success. It's not just about the players (and) it's not just about the coaches; I would include in there The Kingdom and the great support that we get every time that we step into Arrowhead and on the road. The fans are spectacular and their support has been a great contributor to leading us into the playoffs."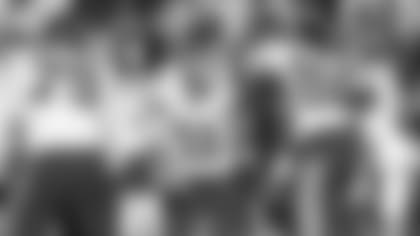 When Chiefs Kingdom members fill the seats to watch their favorite team, coach Reid shared two reasons his players have been able to provide a very productive product.
"I'm proud, mostly, of the players and the perseverance and the trust that they've had," coach Reid said. "Us coming in as new coaches, and in most positions, we have a couple guys that, I've said this before, moving on from last year, the guys who have made it are guys buying in to the things that we presented to them; that's not always an easy thing to do. "Trusting" isn't an easy word to spit out and it's a hard thing to get done. These guys have done that; they trust each other, they trust their coaches and they play as a unit. They're happy for each other, they pull for each other, no matter if they're on offense, defense or special teams. That's priceless and I appreciate that."
Another voluminous factor in the Chiefs transformation is QB Alex Smith, who in 2013 has completed 292 passes for 3,160 yards and 23 TDs, along with 70 carries for 384 yards and one TD. Smith said Sunday's success is a culmination of a team-wide goal that began in the offseason.
"We knew we controlled our own destiny and coming here and getting a win, that's all that mattered for us," Smith said. "Anytime you can clinch a playoff spot, it's special. Obviously there's still some left to go here in the division, but yeah, it's special. It's what you're playing for, it's what you worked for all offseason, to get to the postseason."
Of the 5 TDs that Alex Smith threw on Sunday, four went to Jamaal Charles, who said the 11-3 season is a result of good-old-fashioned hard work.
"I think we've worked so hard," Charles said. "Andy Reid coming here, we've put so much work in the offseason and training camp. That just shows you how hard work pays off and every guy in that locker room has worked their tail off and now we make it the playoffs and that's what I told those guys, 'hard work pays off and if we keep working this way, we can go far.'"
On defense, Chiefs LB Derrick Johnson has played nine seasons with the team, including 138 games, 879 total tackles, 21.5 sacks, 11 INTs, 3 TDs, 7 fumble recoveries, 60 passes defensed, 7 special teams tackles, as well as an assist. "DJ" offered another factor into the team's new and successful direction.
"We're a humble group," Johnson said. "Last year was a year that we wouldn't wish upon any team – on or off the field – that we went through. But, it's just gratifying, how we've grown in the short time, with the new regime coming in. Andy Reid has been a huge part to our success and our confidence level is very high and we've played well."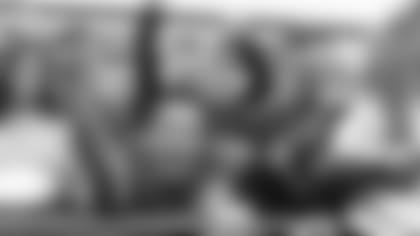 Regardless if it's a nine-year veteran like DJ, or someone new to the Chiefs, like S Quintin Demps, the vibe around the team is equally felt.
"It just feels good," Demps said. "I wasn't here last year, but I know this, I could tell from the guys who have been here, like Brandon Flowers, "EB", it's an excitement around here, going from worst to the playoffs; it's huge for us."
Not only huge for the players, but also the fans, who continue to impress Clark Hunt.
"First of all," Hunt said. "It was so great to see so many Chiefs fans out there, which is very unusual for the "Black Hole" to see so many people wearing red, but it's been that way the entire year. Our fans have supported us, on the road and at home. Our season-ticket holders are the lifeblood of the franchise and I'm so happy for them to have the Chiefs back in the playoffs this year, and all I can say is, we're not done yet."
Thank you, Mr. Hunt, for rejuvenating this franchise in such a way that each Chiefs fan is filled with optimism for the rest of 2013 and many seasons to come.