It was a year before the Kansas City Chiefs drafted All-Pro linebacker Justin Houston in the third round, and it was the year in which veteran Tamba Hali picked up 14.5 sacks, helping the team to a 10-6 record and a playoff berth.
This was the same year that Dadi Nicolas started playing football.
Nicolas was one of the team's two sixth-round picks (No. 203 overall) in the 2016 NFL Draft, and he only played one year of high school football in Florida before signing with Virginia Tech, where after redshirting in 2011, he picked up 165 tackles and 17 sacks over a four-year career for the Hokies defense.
He was born in Port-au-Prince, Haiti, but moved to the United States with a family friend when he was just 5 months old. He attended Atlantic High School in Delray Beach, Florida, where he spent most of his high school days playing basketball.
Nicolas didn't meet his biological mother until he was a junior in high school, the year before he started playing the game that is now his profession.
Just six years after playing football for the first time, Nicolas now finds himself in the NFL.
"The biggest thing with [Nicolas] is just his explosiveness," Matt Donahoe, the area scout for the Chiefs who initially evaluated Nicolas, said of what stood out to him. "He's a passionate kid and he plays like that on the field."
At 6 feet 3 and 235 pounds, Nicolas has the prototypical build for an outside linebacker, but he spent a lot of his time at Virginia Tech at 3-tech, playing in the trenches as a defensive lineman. At that position, he was regularly outweighed by more than 70 pounds against those whom he was matched up against.
"He didn't really have a say in that—that's kind of just how they played him there," Donahoe added. "The thing that's kind of amazing with him is that he played in there at that weight and was still able to make plays."
"You know what, if it's anything, it shows how big my heart is," Nicolas said of playing in the trenches. "Weight is nothing but a number on a sheet of paper. My heart is so big, it doesn't matter to me. It's just competition, it's just football, that's how I see it."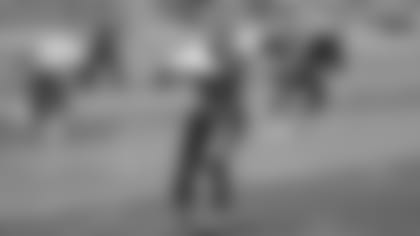 Even with the move now to outside linebacker, Nicolas knows that adding weight is something he'll need to do moving forward.
"For me to play as much as I want to play, I need to gain weight. That's obvious," he explained. "I plan on gaining about 15 more pounds, 10 to 15 more pounds by the time August comes around."
Nicolas doesn't believe that the added weight will affect his ability to get after the quarterback, and he knows that learning from veterans like Hali and Houston will only further his game.
"Right now I'm like a sponge," he said. "I feel like I need to improve all the way around – when it comes to run stopping, pass rushing, dropping into zone coverage. I'm just trying to be great overall. I need to grow, I need to break myself down. I think when I get to the Chiefs I'm going to get broken down and get built right back up. All of me needs to improve.
"I think I have great potential. I have great coaches and great veterans around me. I'm looking forward to continue growing as a student of the game—mastering the position, mastering my craft and trying to be a legend."