Kansas City Chiefs running backs Jamaal Charles, De'Anthony Thomas and Charcandrick West, now in the midst of phase two of the offseason, took some time on Tuesday afternoon to visit Operation Breakthough, one of the largest single-site early education child care and social services facilities in the state of Missouri.
According to its website, Operation Breakthrough's mission is to help children who are living in poverty develop to their fullest potential by providing them a safe, loving and educational environment.
CEO Mary Esselman believes that a visit from a few Chiefs players only helps to accomplish that mission.
"Oh my gosh, when you look at the kids and they work with the Chiefs, it's just phenomenal," she said. "Otherwise, these are just figures they see on TV, but having them here at Operation Breakthrough really brings them alive for the kids."
In the early afternoon, about 25 children joined Charles, Thomas and West on the facility playground and they were broken up into three separate Play 60 stations.
With the kids being smaller in size, Charles had to help some along with the station he was in charge of.
Thomas directed the ladder station.
"We were doing one-legged hops, two-feet hops and stuff like that," he said. "We're just letting them have fun. It's something that they never experienced before."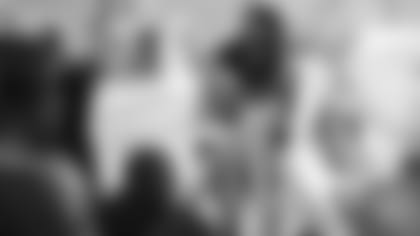 Thomas, who explained that he came from a single-parent household, felt that he could relate to the kids for that reason and therefore was even more grateful for the time he got to spend with them.
"We're just here giving back and just giving them inspiration and motivation," he said. "They're young, but hopefully one day, they'll remember this day and just a great opportunity for us."
The Chiefs have a long-standing relationship with Operation Breakthrough, as the charitable organization served as the beneficiary of the Chiefs Charity Game from 2005 to 2008. Esselman even explained that the Chiefs built the playground where Tuesday's event took place.
"They've been a great partner over the years," she said. "Earlier this spring, we had Chiefs here reading with our kids, and I love the fact that the Chiefs support not only literacy, but the physical development of our kids as well."
Members of The Kansas City Chiefs Running Backs group visited with children at Operation Breakthrough on Tuesday. Players helped the kids participate in a play 60 event.