Waiting in a Las Vegas airport to fly back to Kansas City, season ticket member Chris Lewellen was not about to let it happen again.
Last year, he attempted to bid for the draft-day trip giveaway through Chiefs Kingdom Rewards. But as that auction wound down in the final seconds, his top offer was outbid.
This time he refused to let that happen.
"Instead of just sitting there and trying to auction it up to every hundred or thousand as people bid up the last few seconds of it, I just went all in on my points," he explained later.
Lewellen dumped his 50,608 points into the auction.
The fact that Lewellen had that many points in the first place was impressive in itself. His late father, Robert, originally purchased his season tickets and they had been in the family for more than 50 years.
After landing in Kansas City, he realized he won.
"I was super excited," he said. "I was excited as a Chiefs fan, but more importantly, upon speaking with [the Chiefs representative], I wanted to make sure I could take my oldest son, Dylan.
"He's 12 years old and I thought well, I'd feel guilty experiencing this event if I couldn't bring him along."
The Chiefs and the NFL said yes. Chris Lewellen and his 12-year-old son Dylan were going to the NFL Draft in Chicago.
Upon arriving to Chicago on Wednesday of draft week, Chris took Dylan to a Cubs game, then retired to the provided hotel to get ready for the busy next day.
What they found were two gift bags filled with official NFL Draft merchandise and an official itinerary.
The Lewellens' Thursday Timeline
Breakfast and Orientation
Auditorium Theater Walk Through & Rehearsal
NFL Draft Luncheon at the Hilton Palmer House
NFL Draft 2015 - First Pick
Chris and Dylan's day started with breakfast with league commissioner Roger Goodell. After speaking to the 64 fan representatives in attendance, Goodell answered every question until there were no more.
Noticing Dylan as the youngest person in the room, Goodell walked over to him and inquired as to whether he was ready to bring the Chiefs jersey to him at pick number 18.
Dylan looked up to his father. Chris explained to Goodell that they had been told the rules said that only adults over 18 could walk on stage with the jersey.
"We'll see if we can fix that," Goodell happily told the Lewellens.
After breakfast, Chris and Dylan went to the Chicago Theater for rehearsals where they were among the first to see the visuals that would be used for ESPN and NFL Network later that night. There they learned how their evening would play out.
One-third of their time would be spent in a VIP area so that they could relax and eat. The next third would be on the stage as they got ready for the Chiefs' number 18 pick and finally, after that, they were free to watch the rest of the draft from seats located right next to the stage.
Following rehearsal, the Lewellens went to the NFL Draft Luncheon, where they had the opportunity to meet LaDainian Tomlinson, Cris Carter, Charles Tillman and Thomas Davis. As they ate, the players walked around to meet and greet the representatives.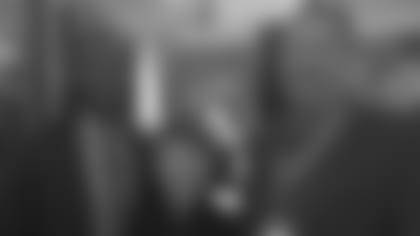 "He was a magnet to the players," Chris said of Dylan, who took photos with all of them.
After a bit of free time, Chris and Dylan met the NFL staff back in the hotel lobby at 3:30 p.m. to get ready to go to the draft.
"They had a police escort for us because they had blocked off the three blocks around the theater," Chris said. "It was neat."
At this point, Chris took a second to reflect on all that had already transpired that day.
"The NFL was giving us the best experience and they were treating us like the players," Chris said. "'You guys are on a pedestal just like we hold other people here. You're our fan base. You're our reason why we're here.'
"They said that to us, but they also showed us, which was important."
Chris and Dylan walked the gold carpet with the rest of the media and draft prospects to get into the theater. Dylan, who was wearing a Chiefs jersey as the team representative, received cheers from Kansas City fans in the crowd as they walked.
At the end of the gold carpet was the moment the two had been waiting for all trip—the beginning of the NFL Draft.
Chris and Dylan started their night in the VIP room, but around the 10th pick, they were summoned to the backstage.
Four other team representatives joined them on line as the picks continued to come off the board.
The Lewellens got to watch firsthand how the draft-day jerseys get their names pressed on them, a process that fascinated Chris.
When it was the Chiefs turn at 18, they selected Marcus Peters, who was unfortunately not in attendance. But Goodell, who was backstage at this point, encouraged Dylan to bring out the jersey anyway.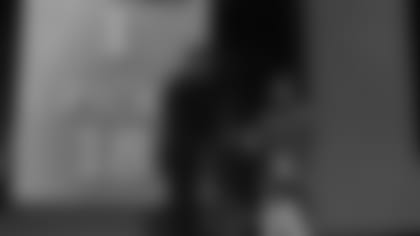 After the pick, Goodell, Chris, Dylan and actor Eric Stonestreet, who was also in attendance, took a photo together.
Even after the selection, Goodell stayed to talk with Dylan.
"He wanted to make sure that he made Dylan's experience special," Chris said. "Think about it. He could have easily just walked by and said that he was busy and we would have understood and he could have gone and done whatever he was going to do.
"But he hung out with him and made sure that Eric [Stonestreet] was with him and talking to Dylan and I and it was really neat."
When the Chiefs' pick was done, the Lewellens made their way to the stands to watch the remainder of the first round.
They returned the next day for the second through fourth rounds and continued to tour Chicago, stopping by a Blackhawks playoff game before it was time to depart.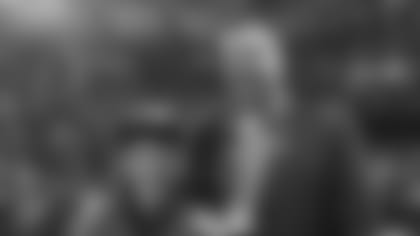 Reflecting on the trip, Chris said he personally viewed it in two different ways.
"As a Chiefs fan, I'm looking at this—there's a bonding I have with the Chiefs that's greater than I had the previous years. I feel closer to the Chiefs. I feel it's more personal."
But even bigger than that, he'll forever have the memories of draft weekend with his son.
"As a father, the fact that I got to spend time with my son and see him experience these things and participate, that made it more important to me."
---
This experience was made possible byChiefs Kingdom Rewards, which gives away a new Chiefs-related prize every single day of the year. **
Photos of Chris Lewellen and his son Dylan at the 2015 NFL Draft. Chris used his Chiefs Kingdom Rewards points to win the trip in an auction on ChiefsKingdomRewards.com.