Kim Nichols was looking forward to the Chiefs Draft Day Party Thursday, but there is no way she could have expected what was to come.
In addition to catered food, music and a stage show hosted by the Voice of the Chiefs, Mitch Holthus, one of the marquee moments of the night was the 2015 Mustang giveaway presented by the Midwest Ford Dealers and Chiefs Kingdom Rewards as part of the program's launch.
To enter the 2015 Ford Mustang giveaway, Chiefs fans could log onto the Chiefs Kingdom Rewards website and use 25 of his or her earned points. Any fan could enter to win up to 10 entries.
From 10,000 submissions, three final contestants—Nichols, Debi Myer and Samantha Medlin—were selected to participate in the Draft Day Party festivities to win the car.
"I was totally freaked out in the very beginning when they called me," Nichols said. "It was really pretty cool."
After three seasons of having Chiefs season tickets, in 2012, Nichols and her friend opted to get rid of them, a decision she admitted was one of the worst of her life.
"I felt like it was a withdrawal because I didn't get them," she explained. "It was the worst experience ever. I had to be at the game.
"After that year, I will never ever not have season tickets again."
Nichols re-upped the tickets with her friend and hairdresser, Tad, in 2013, and the two have now been going consistently for the last three seasons.
This year, in 2015, it really paid off.
As a season ticket member, she was familiar with Chiefs Kingdom Rewards and could easily enter her name into the contest. That led to the finals at the Chiefs Draft Day Party.
After the first part of the Draft Day Party, Chiefs head coach Andy Reid's pre-draft talk to the crowd, Holthus invited Nichols, Myer and Medlin to the stage.
The contest was simple. First, each contestant randomly picked a set of keys out of a Chiefs helmet. Next, each contestant would hit the panic button on her respective set one at a time.
Whoever set the 2015 Ford Mustang's alarm off would win the car.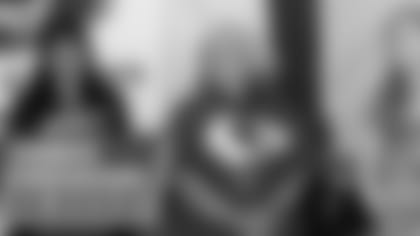 "I let the other girls pick first and one of them picked and the other one picked," Nichols explained. "When I picked my number, it was number three, which was cool."
Medlin took the keys and pressed the panic button on her keyset first. No alarm.
Then it was Myer's turn. Dead silence, then boisterous cheers.
She pressed the panic button on her set and the car alarm began blaring.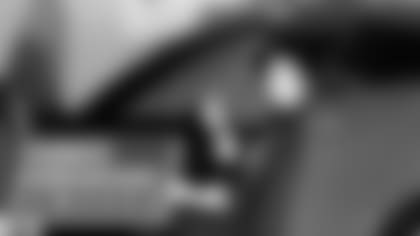 "Of course, I just knew it was me," she said. "It was a very cool experience. Very nerve-racking. Very exciting."
Chiefs Chairman and CEO Clark Hunt met Nichols on the stage and opened up the door to her new, bright red 2015 Ford Mustang.
Nichols had trouble grasping the moment.
"It was like I was moving in slow motion, it really was," she described. "It was just like I wasn't even in my body almost. It was so much excitement."
After the contest ended, Nichols left the stage and met her friends and family. The rest of the night, fellow Chiefs fans asked to take photos with her to celebrate.
"Just having all the Chiefs fans, it was really cool to be in that kind of situation because I love the Chiefs," Nichols said. "I'm part of them and part of—"
She stopped short. It was hard for her to continue expressing how she felt into words.
After a few seconds, she spoke again.
"It's just exciting. It makes your skin get goose bumps."
---
Chiefs Kingdom Rewards* gives away a new Chiefs-related prize every single day of the year. Signing up is easy and free, and it's available anywhere in the world, whether you're in Kansas City or as far away as London. *
Right now you can enter to win a football signed by defensive back Marcus Peters or two tickets to a game next season.