Three members of the Kansas City Chiefs helped bring the franchise's unique history to life on Monday as punter Dustin Colquitt, kicker Harrison Butker and long snapper James Winchester led over a dozen Girl Scouts in an art project during a tour of the Arrowhead Art Collection.
The workshop encouraged the girls to create their very own football league, from team names to uniform design, as a way of learning about Chiefs' founder Lamar Hunt and his creation of the American Football League.
"We had a lot of fun," Butker said. "We had the crayons out and were making up different uniforms and helmets – kind of mirroring what Lamar Hunt did with the AFL. I learned a lot of history myself and it was just fun connecting with them."
The girls were broken down into three groups, with one player serving as the "commissioner" of each of the newly minted football leagues before the designs were all revealed at the end.
"It's a big opportunity any time a player gets to get back in his community and deal with our fans," Colquitt said. "It's fun meeting girls in the third grade, right in the middle of a really cool part of their life. They got to think outside the box as if they were running a football club today and put their own spin on something they love, which is Chiefs football."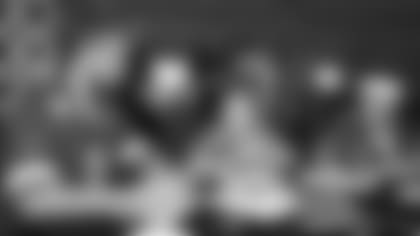 In addition to their own creations, the Girl Scouts also had an opportunity to explore the Arrowhead Art Collection during the visit. Founded in 2012, the Arrowhead Art Collection is designed to celebrate regional art while promoting culture, providing educational opportunities and engaging the community in a way that touches individuals of all ages and all walks of life.
Over 30 pieces of artwork are on display inside Arrowhead Stadium for the viewing pleasure of tours and youth groups, including Monday's group of Girl Scouts.
"Our collection represents a chance for art and sports to come together in the same space," said Sharron Hunt, Chairwoman of the program. "We are thrilled to have these young ladies here today, not only to see local art firsthand, but to also explore their own creativity."
The Chiefs will encourage more of that creativity in the coming years, as the Arrowhead Art Collection will offer a Girl Scout badge beginning next fall.
It's an opportunity that the players welcome moving forward.
"It's fun influencing young people for the better," Colquitt said. "They can come in and no matter how their day was going, we can affect it here in a positive way at Arrowhead Stadium. For a player, you're going to be seen in a positive light or a negative light – so what are you going to be for that kid? It's cool to see how they respond to that and just talking with them."
To learn more about the Arrowhead Art Collection, click here.
Arrowhead Art Workshop with Girl Scouts featuring the Chiefs Specialists.