A family of six made their way through GEHA Field at Arrowhead on Wednesday, partaking in what appeared to be an ordinary stadium tour in anticipation of the upcoming football season.
They began on the hallowed ground of Founders Plaza and received the customary briefing from their tour guide – standard procedure for the thousands of tours that explore the iconic venue – but unbeknownst to Jaleon Brown and her family, this particular tour was going to be a little different.
The guide deviated from his standard route and immediately led the group to the Len Dawson Television Broadcast Booth, keen on showing the family where national television broadcasts have taken place for decades. They wandered in, and upon the recommendation of the tour guide, Jaleon posed for a photo next to an image of Dawson on the wall.
It was right then that a visitor appeared from around the corner with a football in-hand and a major announcement to share with this unsuspecting family.
"I'm sorry to interrupt," the man said. "I just wanted to say hello, and I actually have a football that I'd like to present to Jaleon."
The man was Kansas City Ambassador and scholarship committee member John Lohmeyer, who played for the Chiefs from 1973-77, and the football he was carrying bore Jaleon's name alongside Dawson's No. 16 in red.
"We're so excited to have you here," Lohmeyer continued. "And we're so excited to present you with this year's Len Dawson Scholarship."
Shock quickly transformed into elation as Jaleon's family erupted in celebration. This process had taken weeks of applications and interviews, but her journey to this moment was about so much more than that.
Since elementary school, Jaleon has dreamed of following in her mother's footsteps and becoming a teacher. She's been actively involved in debate, competitive speech and student council during her impressive scholastic career while relentlessly embracing her grandmother's advice that nobody can take away her education.
Jaleon is as motivated as they come, and through it all - as Lohmeyer went on to explain – she's exhibited the qualities that Dawson's peers have always recognized in the Chiefs' Hall of Fame quarterback.
"You have many of the attributes that Len has. He's careful and meticulous about details, he's a leader and he's always had a vision," Lohmeyer said in the moments following the announcement. "The blessing for Kansas City is that you're going to come back, and you're going to help us educate our children."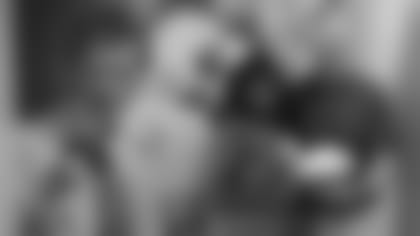 This marks the 46th year that the Len Dawson Scholarship will help a local high school student attend college, continuing a tradition of supporting young adults in pursuit of their dreams. For Jaleon, that means attending Western Kentucky University with the intent of majoring in English for Secondary Teachers with a minor in Performing Arts.
It's the first step toward her eventual goal of giving back to students right here in our community who often don't enjoy the same opportunities afforded to others.
"I'm motivated to help other people. That's the main reason that I want to become a teacher – it's the idea of helping others and helping others succeed," Jaleon said. "It's also why I want to eventually start a non-profit program. I believe that performing arts is a great opportunity for so many kids to learn and to become even better students. I'm just always inspired to help others."
And it's a mission rooted in her own experience, as Jaleon recalled how performing arts has helped her grow as both a student and an individual.
"Performing arts can teach you so many different skills that help you not only in school, but in life in general," Jaleon said. "When I grew up, I was a very quiet and introverted person. I wasn't very good at speaking up for myself, but being part of speech and debate has allowed me to find my own voice and to help others find their own voices."
It's an inspirational cause that has the potential to cultivate real change in our community, and with the Len Dawson Scholarship now in-hand, Jaleon is one step closer to making it a reality.
"It's a dream come true," Jaleon said. "We're moving closer toward a more equitable education system, and that's always going to be my goal – to help disenfranchised students to succeed just like everyone else."