On Tuesday, over on Belleview Avenue, Chiefs tight ends James O'Shaughnessy and Brian Parker teamed up with the Chiefs Play 60 outreach team in instructing students from Alta Vista Middle School in honor of Hispanic Heritage Month.
"We got a chance to put this middle school through some of our routines that we do, along with talk about nutrition and staying healthy," O'Shaughnessy said. "To have this platform as an NFL player is just great—giving back things that you've learned over the times, things that made you successful, things that have helped you out throughout the years."
Tuesday's practice featured a series of Play 60 activity stations led by the players, as well as a special "Fuel Up" healthy snack station provided by the Midwest Dairy Council.  The players also spoke to a group of 40 primarily Latino students in an effort to reinforce Play 60 ideals and put an emphasis on the importance of health and wellness in daily life.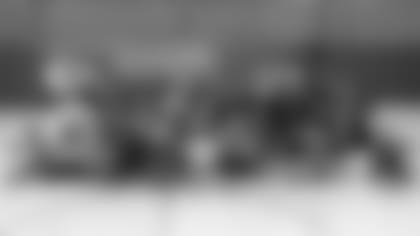 "Whether it be through athletic training or nutrition or just overall staying healthy, any chance we have to give back to them, explain to them some of the things we do and how it's a big part of our lives is a great time," O'Shaughnessy added. "Hopefully I can catch a couple of their eyes and who knows, they might become a [Chiefs player] one day also."
The event was held in honor of the NFL's new Hispanic Heritage Month campaign – Feel the Orgullo (pride). Alta Vista and its students are tied to the Guadalupe Centers, Inc., a social service agency formed in 1919 and recognized as the longest continuously operating organization serving Latinos in the United States. "It's a very unique opportunity that we have been presented with," said Jason Holzer, a physical education teacher at Alta Vista. "As a gym teacher, I'm hoping to impact them to be active. We live in a very front-of-our-screen society, so to see them put their phones down, put their tablets down and be focused on each other and interacting with each other in a physical way that gets them active is a great way for them to learn how to be more active outside of school."
This is the fifth consecutive year the team has recognized Hispanic Heritage Month by collaborating with Alta Vista. The Play 60 event will lead into the Chiefs annual Hispanic Heritage Month game at Arrowhead on Oct. 11 against the Chicago Bears.
"Since the majority of our kids are Hispanic, it's something that we celebrate all month long with our culture in the classroom," Holzer explained. "To have [the Chiefs] come here and really embrace the culture that we are a part of here at Alta Vista is a great testament to where America's at and how far we've come as a society."
According to the National Hispanic Heritage Month's site, every year, Americans commemorate by appreciating and "celebrating the cultures and contributions of American citizens whose ancestors came from Spain, Mexico, the Caribbean and Central and South America."
The celebration begins on Sept. 15, the anniversary of independence for five Latin American countries: Costa Rica, El Salvador, Guatemala, Honduras and Nicaragua. Mexico declared its independence on Sept. 16 and Chile on Sept. 18.
In past years, the partnership has included youth football clinics and Play 60 Character Camp with local Latino youth.
The Kansas City Chiefs visited Alta Vista Middle School