Seventeen-year-old MyAun Boyd joined the Zoom call around 11 in the morning. She was told that this was a final interview in her pursuit of the Len Dawson Scholarship, which has helped local students go to college for nearly a half-century.
Everything seemed ordinary as pleasantries were exchanged between MyAun and the familiar faces from the Chiefs' Community Outreach Department – this was just another interview, after all - until a new face in the interview process began to speak.
"How are you doing, MyAun?" asked former Chiefs' linebacker Shawn Barber from the other side of the screen. "I had a chance to read what your counselors and teachers had to say about you, and I want to go over some of the words that they used."
MyAun said hello and nodded her head, unaware of what was underway.
"Humble, open-minded, a mature nature, self-motivated and independent," Barber recited as he read the words written by those who nominated MyAun. "Ready for the demands of higher education, a genuine desire to help others and that you have a promising future. I think it's a culmination of all those descriptive words that made you a finalist for this scholarship."
Barber paused as MyAun awaited a question, but the time for that had passed. You see, this wasn't a final interview or an interview at all, for that matter. It was an announcement.
"What I would like to do now," Barber continued. "Is on behalf of Len Dawson, the Hunt family and the Len Dawson Scholarship Committee is let you know that you – right here today – are the recipient of this year's Len Dawson Scholarship."
Anticipation quickly transformed into elation as MyAun placed her hand over her mouth in disbelief.
"Really?" she asked as Barber smiled back and confirmed the reality of what had just occurred.
"It was a strong field," he said. "But you rose above the rest."
This was merely a virtual interaction, but that didn't matter. The emotions were as real as if Barber had delivered the news in-person, and for good reason. The attitude and work ethic that define who MyAun is as both a student and a person are not easy. They require a certain dedication on a daily basis that often isn't reciprocated with praise or commendation – it's just simply the right way of doing things – but on this particular morning, those values were being rewarded.
"Her values, her work ethic and her character are really what has earned her what she has so far in life," said Dustin Havens, one of MyAun's teachers. "Some kids are just brilliant, but MyAun has a really unique combination of strong character, hard work and a willingness to grow intellectually."
And, on this otherwise nondescript summer day, those characteristics were being recognized with the same tangible support that has helped local students go to college for decades.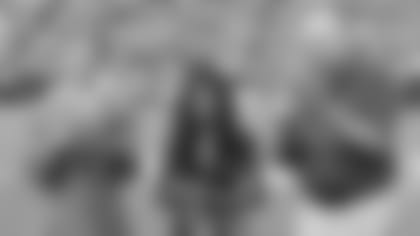 In fact, this marks the 45th year that the scholarship - which bears the name of Pro Football Hall of Fame quarterback and Chiefs' legend Len Dawson - will help send a local high school senior to college. It's a particularly fitting scholarship for MyAun, too, as she pursues a career in journalism just as Dawson did following his playing days.
"I know that he was an amazing football player, but he was also a journalist, so I can relate to him in that aspect because I want to go into journalism and mass communications," MyAun explained. "I love storytelling and he has always been amazing at it."
This dream isn't new, either. MyAun has wanted to be a journalist since she was in the sixth grade, and despite her age, she's already learning new skills as part of an internship with a local marketing firm. MyAun has been working for this for much of her young life, which makes earning the Len Dawson Scholarship all the more special.
"This scholarship means the world to me right now. I'm going to attend Evangel University, and at the start, we were just saying that we were going to trust God that this is where he wanted me to go even though we didn't have the financial part of it lined up," MyAun said. "This scholarship just confirms that I'm going to the right place, it's the right move for my future and people believe in me."
And, perhaps moved by her words, Barber decided he wanted to take things a step further.
"I have one more surprise for you, MyAun," Barber said. "If you're interested, I'm going to get together with the Chiefs and find a way to purchase you a new laptop so that you can go to school and not have to worry about anything. You let us know the type and the model – whatever is going to help launch your career – and we'll make that happen."
Elation, closely followed by subtle tears, consumed MyAun's expression.
"You have no idea how hard we were praying about a computer this morning," MyAun said. "Thank you so much."
The Chiefs, from individuals like Dawson and Barber to those currently suiting up each and every Sunday, have brought so much joy to so many people throughout Chiefs Kingdom over the decades this franchise has called Kanas City home. It's often most evident through the play on the field, with the Chiefs' victory in Super Bowl LIV standing as perhaps the greatest example, but that impact is just as evident through institutions like the Len Dawson Scholarship.
MyAun Boyd joined that Zoom call in the hopes that she could secure the means to make the future she envisions for herself a reality. The call ended with those means in-hand.
"I am shocked and just truly grateful." MyAun said as the call came to a close. "I'm so excited for whatever comes next."