Things may be quieting down at Arrowhead Stadium as the Kansas City Chiefs enter their bye week, but the club's commitment to honoring our men and women in uniform is still in full swing as the Chiefs Community Caring Team, led by Ambassador Dave Lindstrom and Chiefs Hall of Famer Gary Spani, visited Fort Leavenworth on Tuesday to pay respect to those that defend and serve our country.
"It's a phenomenal feeling to be able to come up here and visit with people who make sacrifices every day, not only the soldiers, but their families, too," Lindstrom said. "It's great to be able to meet them and have an opportunity to say thank you for all that they are doing for our country and our safety."
The visit was the seventh and final stop on the Chiefs' "Salute our Troops" Military Outreach Caravan, which included stops at Whiteman Air Force Base, Fort Leonard Wood, Fort Riley, Offutt Air Force Base, McConnell Air Force Base, Rosecrans Air National Guard Base and the local VA Medical Center in Kansas City.
"This is important because we live in a country that allows us to do pretty much whatever we want, but it doesn't just happen because someone waves a magic wand," Lindstrom said. "It comes because of the sacrifice of generations of men and women, including this generation right now, who are fighting to keep our freedom free."
Tuesday's visit began with an autograph session at a grocery store on base, where Lindstrom, Spani and two Chiefs Cheerleaders met with soldiers and their families.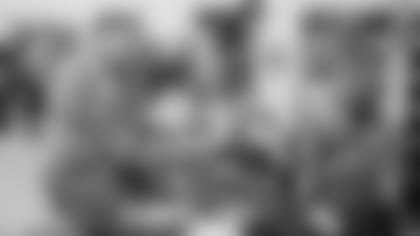 One of those cheerleaders, Candace, is a First Lieutenant in the United States Marine Corps.  
"It's just really, really special since I'm on both sides of it and I can appreciate the event as a service member," Candace said. "I love seeing how everybody gets so excited - they bring their families out here and you can see the kids and take pictures. It's nice to see all that positive energy directed towards some kind of common goal and cause."
The visit continued at General Omar Bradley Elementary School, where Lindstrom, Spani and the cheerleaders discussed strategies for success with an assembly full of kids.
"I think it's fantastic that they're supporting our military children and our military families and it just means a lot to all of us," said Michaela Culkin, the school's Principal. "It's just so important to have smiles on our kids' faces each and every day, and having the Chiefs here is pretty amazing."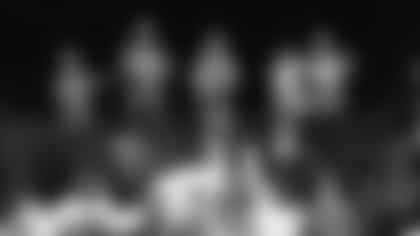 The contingent then toured the U.S. Army Command and General Staff College before presenting Spc. Stanley Townend with a game ball near the "Buffalo Solider" monument on base.
Townend works in the U.S. Disciplinary Barracks on base and was named the Company Soldier of the Month this past September.
"It's always good to get the community together with military members and football players," Townend said. "It creates a feeling of home wherever you are, because we're essentially always away from home."
The visit was just another example of the Chiefs' commitment to honoring those that make our freedom, and things like the National Football League, a reality.
"It's a practical way for the team to say thank you to our first responders and our military, but it's also an opportunity for our military to show our support for our home team," said Lt. Col. Matt Yandura. "It allows us to come together over things that we agree on, and that's the respect for service to others and service to our nation."
The Kansas City Chiefs Community Caring Team, led by Chiefs alumni Dave Lindstrom and Gary Spani, visited Fort Leavenworth to thank troops and their families for all they do to serve and protect our country.