On Thursday, the entire Kansas City Chiefs team will embark on its maiden voyage across the Atlantic to play the franchise's very first game at Wembley Stadium in London.
But behind the anticipation of Sunday's game is a man who, unbeknownst to the world, plays a huge role in making the whole thing happen.
Meet Allen Wright, the Chiefs equipment manager.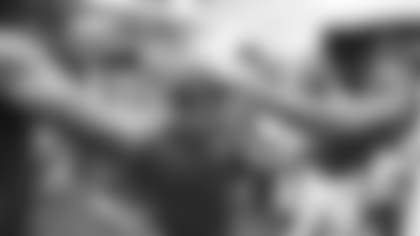 Wright is in charge of everything you never thought to pack.
"It's my job to get everything over there and in place so it's as seamless as possible," Wright said. "Really for us, it's a normal Friday routine. I got to go over in June and see the facility and the hotel and the proximity of where we're going to practice and all of those things."
This isn't Wright's first international trip, either. He's been to Mexico (1996), Germany (1994) and to Japan twice (1990, 1998) during the Chiefs preseason exhibition games as part of the American Bowl.
Since then, the farthest a Chiefs player has gone to play football is Hawaii during the Pro Bowl.
"Fortunately, I've been through it before," Wright said. "Mike Davidson, who was the head equipment manager at that time, had a good template, something that was easy for me to follow. It is a little bit different being a regular season game."
Aside from being the human checklist essential to the team's travel, Wright also has to worry about getting through customs for the Chiefs nine-hour flight.
"That's the part I worry about the most," Wright said. "I probably won't sleep very well until we get through. When I get on the plane, there will be a certain level of ease. But until I get through it, it's just part of it."
Wembley Stadium is primarily a soccer arena, but has equipment capable of suiting the team already over there. This means Wright and the team will have room enough left over for them.
"We'll take a few practice footballs and things like that, but they had a lot of things already over there as far as pads, sleds and some things we'll use for Friday practice," Wright said. "It's not that much different than a regular road trip."
Except for on this trip, there are no roads.
"The only thing that we're really doing any different is we have garment bags for the players on game day that have about eight to ten different items in it," Wright said, "and we're just going to use that garment bag for Friday, Saturday and Sunday. We didn't really have to take a whole bunch of extra stuff than what we normally take, so we basically just give everybody as many options on game days as possible.
"The less they have to come see us, I feel like the better we're doing our job."