On Jamaal Charles: "With Jamaal Charles, he twisted his foot and kind of freak thing. It didn't happen at practice. It was after practice [when] we were leaving and so, we held him out. Precautionary measures. I think he's going to be fine but I left him back at home. We'll go from there but he's doing well."
On the game: "There were some good things in the first quarter that I saw both offensively and defensively. You got to punch it in when you get into the red zone. I'm all for getting our kickers reps but I'm more into scoring touchdowns down there whether it's the preseason or not the preseason. The tale of this thing is the thirteen penalties. We had thirteen, they had five. They had really five explosive plays. Add two more to that, seven that were caused by penalties. Offensively, we took big plays away from ourselves. That's not the way you function and be a successful football team in the National Football League. So, we've got to do better there. I told the players—those things, you get back, you work on it. You discipline yourselves, make sure you get it right and then when you look at the tape, see what kind of team you could be if you eliminate those penalties. If you cut those things all the way down and you're a pretty good football team. You're executing and that's why we talk about preseason games. We want to come in [and] we want to do that. We want to execute and that eliminated some of our progress down the field."
On what he attributes 0-for-8 on first team drives to: "We were kind of in that same situation [last year] and you work your way through it and you go. There were some mistakes. Listen, I could do a better job of putting the guys in position. I can do a better job there with the play calls and we've got to execute and you got to eliminate penalties."
On penalties on the offensive line and secondary:"That's two areas that we're young. And so, we're going to still test it. We're going to throw the football. We're not going to run the ball. We got a young offensive line; they got to learn and so, we're going to feed them the things they need to get better at. We're not hiding that part of it and we know that they're going to get better with practice and then on the other hand, if you're in the secondary, you've got to be able to cover people. So they were throwing the football, you go do that and you're getting experience as you go along here and I expect to see progress. So I expect us to learn from our mistakes. That's what the preseason is for and do a better executing."
On TE Travis Kelce: "He did a nice job. I mean really, with the turnover there, he had a chance. He did a nice job on that route too. So, no I do like what he's doing. He's just got to keep coming with it and there's more than just the route running. You got to be able to run block and then you got to detail all your work there. But, you sure got to give him credit for the effort that he's giving in the pass game and he sure has a nice skill level."
On Chase Daniel and the QB situation: "Yes. So, that was the plan. Give him one series. There's a chance he doesn't get too much play time next week and neither will Aaron. The majority will go to the other two guys. So that's why we did that. Tyler (Bray) will work in next week. It will be his week up."
On penalty calls:"I try to look at it and see what we can do better. I think the officials. They're learning as we go too. I mean it's there preseason. So, if I don't like what I see I'll try to coach them up too. That's how it goes. They're trying to get better and so, we're all in it together doing this thing and that's how it works."
On losing field position lost by penalties: "It's ridiculous. Can't do that. Even if you're counting by fives, 13 is too many and there were some that were greater than five."
On the young offensive line: "They did (get beat). In certain cases, they did. I'll be curious to go back and look at it. We're going to play the five best guys. That's what we're going to do. So we'll find out what those are and I'm not that concerned about it because I know what we're capable of doing with that group that we have. So we just got to make sure we find the right ones and then continue to teach them and coach them."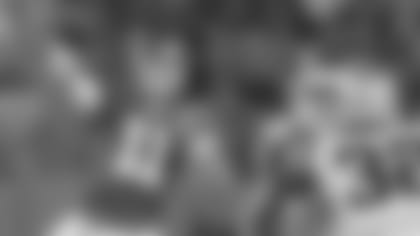 On the inability to get six: "I definitely got into a rhythm. I think that was great tonight. I think a lot of self-inflicted stuff. I think every drive you can point to a penalty or a sack that caused us to fail. It's tough. They're a good defense. It was a great challenge for us. One of the top defenses in the league at their place. We felt like we were able to move the ball, especially early. Couldn't finish down there."
On tonight being a road bump: "It's tough. We certainly felt like in some ways we did take a stab, just because finally, ones, we got to be out there a little longer and put some drives together and did get into a rhythm and sustain some drives. We were out there [for] prolonged periods but, you got to be able to finish those off. A team like that in the regular season. Those two field goals don't do it to them for you necessarily and it can hurt you. You never know when you're going to get back down there. Like I said, self-inflicted so many times whether it was a penalty or a sack or something down there really hurt us."
On not having Jamaal Charles: "It's tough. I don't know if there's any other guy in the league like him. So, you can't really replace him, but that's the NFL. That's every team. The guy goes down [and] the next guy's got to step up and we got to go. We all got to take up the slack as a group and that's just the way it goes. That's just the nature of football and team sports so, tough. We'd love to have him out there but he wasn't and we've go to find a way to get it done."
On how important this week is to correct what's wrong: "It never ends so you're constantly correcting and learning from the reps that you are getting. Certainly I look for us to take another step. I felt like we did take a step but, would like to take another one. And that probably comes down to finishing some drives and having some more success in the red zone, eliminating some penalties, eliminating some sacks. I mean all those things I think would kind of contribute to that. I certainly think that would be the next step for us."
On TEs Fasano and Kelce: "Fasano is Mr. Reliable. He's always out there. He's always going to be in the right place and makes plays and everything. It's tough. Would have liked to have that one down to the two there. Would have loved to have given him a little bit better ball. But, Kelce, two huge plays and then even had some other ones underneath tonight and was making guys miss and getting north and south and it was good to see He's kind of adds another element to that tight end position. I think can [he] really stretch some defenses and can do some things with the ball in his hands, so exciting to see from him."
On the offense: "I did some good things. Moved the ball on a stout defense. Didn't finish. A lot of self-inflicted things tonight—whether it be penalties or sacks."