The son of a Major League pitcher and a former college baseball player himself, Chiefs' quarterback Patrick Mahomes  returned to the mound last week to throw out the first pitch at a Royals' game.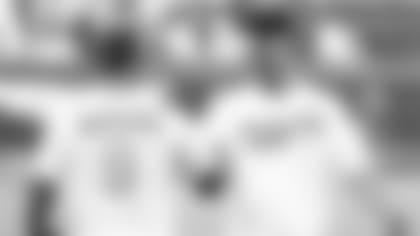 The season continues to inch closer by the day as the first round of Organized Team Activities (OTAs) got underway on Tuesday. In anticipation of the three-day practice period, we continued to preview the competition at a handful of position groups.
The league meetings took place in Atlanta last week, where NFL owners adopted two new rules for the 2018 season. One of those rules is going to be obvious to everyone from the very first kick of the game, as there will be a major change to how kickoffs look in the NFL next season.
Chiefs' Head Coach Andy Reid and a handful of players spoke to the media on Thursday following OTAs. Before answering questions, Reid provided an update on the three players held back from the practices due to injuries.
For a full transcript from Reid's presser, click here. And for see what safety Eric Berry, linebacker Justin Houston, quarterback Patrick Mahomes and tailback Kareem Hunt had to say following practice, click here.
There was plenty to be excited about throughout the first round of practices, including the flashes of talent from Chiefs' second-year quarterback Patrick Mahomes.
Last year, Patrick Mahomes, who was fresh off becoming the Chiefs' first quarterback selected in the first round of the NFL Draft in more than 30 years, spent his time at OTAs learning from Alex Smith and trying to understand the verbiage of the play calls.
It started with learning the protections and how to adjust, then reading the defense and how the routes changed with what the defense was showing, and many of the other "big picture" things that go along with playing quarterback in this offense.
And on Thursday afternoon, which featured both sides of Mahomes—the arm talent, and also the development that'll come, there were a handful of small things that showed his comfortability in the offense.
"He's way ahead of what he was last year at this time," Reid said. "He worked hard last year and was in a great room."
Another source of excitement from the practice period was the presence of safety Eric Berry, who missed almost all of last season with a ruptured Achilles tendon.
As one would expect from a guy like Berry, he doesn't have a waiting period to dispense the info he's attained throughout his career to the younger guys
"I'm dedicated to this team and if you're a part of this team, I'm dedicated to you," Berry added. "That's just how I roll…I know my teammates are dependent on me and I'm dependent on them. It's more of an accountability thing just to handle my business and make sure I'm ready to go just to make sure we can all do what we came here to do."
Off the field, 10-year-old cancer survivor Alex Goodwin toured Arrowhead Stadium earlier this week. The University of Kansas Health System was the only place in the world that told Alex, a native of the United Kingdom, that they could help him beat a Ewing's sarcoma diagnosis two years ago.
You see, Alex, a native of the United Kingdom, was told he was going to die. There was nothing the doctors could do after a six-month misdiagnosis revealed itself as Ewing's sarcoma.
"He had just turned nine," Jeff explained. "And they told us that he wouldn't make it to 10."
*An incredibly rare condition, Ewing's sarcoma affects less than 300 children in the United States – and less than 30 in Britain – each year. Its scarcity means that treatment is underfunded and, such as it is in the U.K., very difficult to find. *
That lack of services compounded with Alex's late diagnosis meant the odds of survival were virtually nonexistent.
It was a reality that Jeff, a police officer, was simply not going to accept. And as fate would have it, a tragedy a world away was going to lead his family to the only place capable of pulling off the seemingly impossible.
Alex Goodwin, a 10-year old boy from the UK receiving cancer treatment in Kansas City, getting a VIP tour of Arrowhead Stadium.