If you've ever been asked to relocate because of a new employment opportunity, you have something in common with the Kansas City Chiefs 2013 draft class. Each of the eight players selected will eventually make the move, some further than others, to Kansas City to begin their 2013 journey with the Chiefs.
Before they report for next week's camp, Chiefs head coach Andy Reid had a simple message for the new guys.
"Just be ready to go," coach Reid said. "You're going to be here a while. You're going to go through your rookie minicamp and then you're going to go through phase three with the team. We're going to introduce you to the offense and defense and special teams, once you get here, then you'll transition into working with the veteran players."
The current Chiefs players are ready to welcome the rookies and help them acclimate to their new careers.
"Anybody that can help us win is something we're always excited about and (we'll) try to show them the ropes," Chiefs K Ryan Succop said. "There is a little bit of an adjustment coming from college to life in the NFL and (we'll) just try to be there and help in any way we can, whether it's advice or showing them around."
Former first-round pick, Chiefs DE Tyson Jackson was quick to offer productive NFL insight.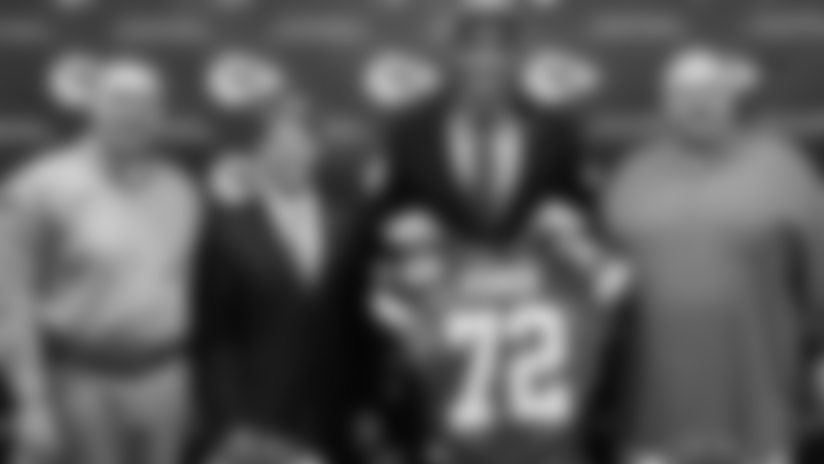 "Just come in and work hard (and) put your best foot forward every day," Jackson said. "There is going to be a learning curve, but I think that if you approach it the right way, with the right mindset, you can shorten that curve as much as possible."
During the post-draft press conference, Chiefs general manager John Dorsey and head coach Andy Reid stressed that the draft choices, at their various positions, will create competition between the players, ultimately making the Chiefs a stronger, more successful team.
"I try to bring in competition," coach Reid said. "I think that brings out the best in everybody and that's what we are attempting to do. John Dorsey believes in that and that's the way he has approached it."
Chiefs Pro Bowl LB Derrick Johnson will embrace his new teammates and is also aware of the competitive reality that exists.
"You have to make them feel welcomed, as a rookie," Johnson said. "There's a lot of pressure on them, especially earlier picks and everybody knows that. The rookies are trying to take the veteran's job and the veteran is trying to keep the job, so I can't wait to welcome (them) with open arms."
The welcome party kicks off May 14th, when the Chiefs begin their organized team activity (OTA).