There's a certain level of respect that was instantly given to veteran receiver Jeremy Maclin by his teammates when he arrived in Kansas City after signing as a free agent this past spring.
Maclin, after six years in the NFL and coming off a career year in 2014, has a résumé that speaks for itself.
Therefore, he wasn't surprised when the young receivers on the Chiefs roster immediately took to him as a mentor of sorts, someone who could help them improve their game.
"It's kind of like you almost automatically gravitate towards that," Maclin explained, "but in order for you to sustain that respect, you have to be real with them. I didn't come in here saying, 'I'm the big dog and anything I say goes.' It's not like that. I'm just coming in here and trying to help these guys be successful. We're trying to be successful as a unit and that's what it's all about.
"I think they can see how genuine I am and how much it's not about me. It's about the Kansas City Chiefs, winning football games and ultimately holding that trophy at the end of the year."
In order for the Chiefs to accomplish those kinds of goals, even with Maclin putting up the same kind of numbers that earned him the first Pro Bowl honor of his career last season, it's going to take a lot of young players stepping up and developing.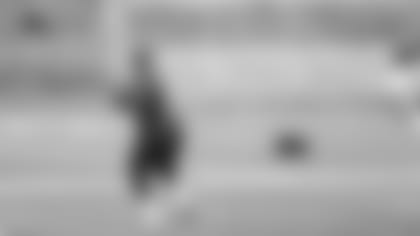 So far, Maclin has been impressed with the attitude of the young receivers.
"All those guys are willing to learn," he said. "I think that's the start. If they didn't have the talent then they wouldn't be here, and all of those guys are super talented.
"I try and lead by example but it works both ways, even though I've been in the league a little while, I may pick up on something Frankie (Hammond), Albert (Wilson) or someone else does. That's just how you get better each and every day."
One person who's not surprised at how well Maclin has ingrained himself with this receivers group is his positional coach, David Culley, who couldn't be more excited about what Maclin is doing for these young players.
"He's a consummate professional," Culley explained of Maclin. "That's what has been really good for us is having our young guys see that this is how you play the game, this is how you handle yourself. It's just been a tremendous boost for us.
"At this point in his career and as he's said before, he couldn't be in a better place than where he is at right now. Not just because he's a Missouri Tiger and that he's in Missouri, but simply because he knows what we're all about as a team and he knows where we're going.
"He knows he can be one of those parts to help get us to where we want to go and that's to win a Super Bowl, which is the same goal that he has."
The respect between Culley and Maclin is mutual.
"He's a great coach and an even better person," Maclin said of Culley. "He's one of the big reasons I decided to come here. He's a very likeable person but at the same time, everybody respects him.
"When you have that mutual respect between a player and coach—that makes everyone's job a lot easier."
Photos from the career of Chiefs WR Jeremy Maclin