The tone of his voice gave little room for misinterpretation.
When Kansas City Chiefs veteran receiver Jeremy Maclin spoke with the media at the practice facility earlier this week, the overlying theme was confidence, both in himself as a leader of this team, but also in what this team could be on the precipice of accomplishing.
Maclin made it clear that this team isn't motivated by last year's playoff run, which ended with a seven-point loss to the New England Patriots on the road in the divisional round.
In his mind, they are motivated by what they know they're capable of achieving, and with the kind of comeback victories and hard-fought performances they've had throughout this season, it almost seems like a team of destiny.
In Week 1, they pulled off the largest comeback in franchise history against the San Diego Chargers—trailing 24-3 with six minutes remaining in the third quarter and eventually winning in overtime. Maclin had a key touchdown reception on a beautiful back-shoulder throw from Alex Smith in the midst of that comeback.
In Week 10, cornerback Marcus Peters, who was outsized by five inches and 50 pounds, ripped the ball out of the hands of Carolina Panthers receiver Kelvin Benjamin late in the game to set up a game-winning field goal by Cairo Santos.
In Week 12, Santos doinked in a game-winning field goal off the left upright in overtime against the Denver Broncos, and that was only after Alex Smith had driven the Chiefs offense down the field in three different high-leverage situations at the end of regulation and then in overtime to set up scoring opportunities.
In Week 13, safety Eric Berry had a performance for the ages in his hometown of Atlanta—walking away with a pick-six and the NFL's first-ever pick-two just a few blocks from where he fought and overcame cancer last year.
This team just kept winning.
"We're battle-tested," Maclin explained. "I think that shows the type of locker room that we have and the type of character that we have in there. Also, it shows the coaches that we have as well. Nobody was exploding, nobody was folding under pressure and our key guys stepped up and made plays.
"That's what makes this team special."
For Maclin, this season hasn't been without its struggles, both for him personally as well as professionally. He tragically lost a close friend earlier in the season and was then sidelined for four games with a groin injury.
Since coming back, Maclin hasn't put up huge numbers (14 receptions for 160 yards in four games), but he has made the key plays when it's mattered the most.
"I had some personal things that I was going through early on and I kind of had to clear my mind," Maclin said of this season. "I was able to come back and just be reliable. That's something you guys have heard me say through my two years here—just be reliable and accountable.
"The balls will fall where they fall, but whenever your number is called, you have to be there for the quarterback."
One area that Maclin has always made an impact is his leadership with the younger players on the roster, particularly guys like Albert Wilson, Chris Conley, and now, Tyreek Hill.
"I think you want that responsibility and that type of role," Maclin explained. "It goes to show you what guys think of you, what coaches think of you and that they believe in you and just the type of person that you are.
"I always say that you're not reaching your full potential as a person unless you're helping others."
It's that line of thinking that Maclin says has developed a truly unique locker room.
"It's as good as I've been around," Maclin explained. "Absolutely. To sit up there and say that it's flawless, I'd be lying to you. Brothers fight all the time, right? But it's great. The difference is when brothers fight, they're able to hug it out afterwards.
"I think that's the difference—not holding grudges and trying to turn your back on each other. It's been wonderful."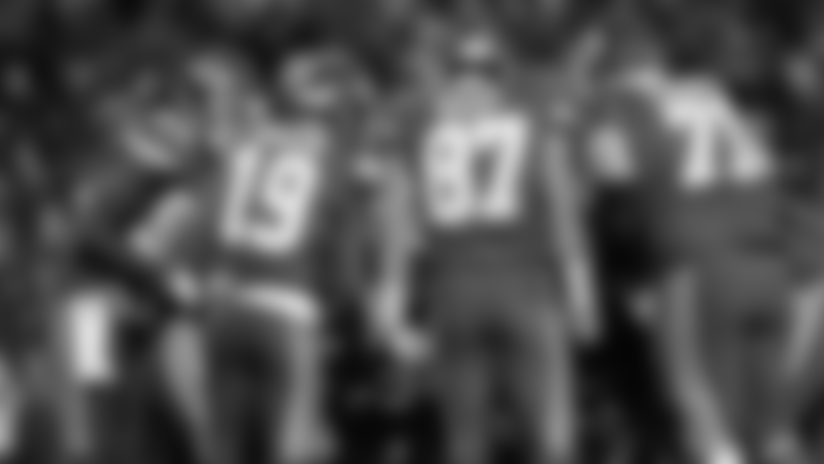 It's a level of trust that has spread and developed under Andy Reid throughout the entire organization.
"That's everything," Maclin agreed. "I think trust is what this game is built on. I think the trust between coaches and players, between the players themselves, and even between management and players is where the elite [teams] separate themselves. You might be able to get through it for a while by hiding that type of stuff, but eventually it comes out and bites you in the butt.
"The fact that trust is mutual here, I think that's the real key to success."
As Maclin and company prepare for an opponent that's yet to be determined, the lessons learned throughout this season should only serve them well moving forward.
"This season tested me mentally a little bit, and I couldn't be happier than where we are now," Maclin added. "The situation we're in as a team and where I am physically and mentally off the football field, too, with my family and everything—I feel good about it.
"We like our chances against anybody."