The sun was mostly covered, but the clouds were no match for the heat waves that created temps in the 90s for Thursday's Chiefs practice, led by head coach Andy Reid.
The roughly two-hour practice was once again orchestrated on-cue, focused on error correction and overall improvement. Walking off the field, coach Reid later addressed the media with the latest injury updates, as well as an evaluation of the day's work.
"All in all, it was a good week in practice," coach Reid said. "The guys worked hard. We tried to keep it as much like in-season as we could, within the rules, as far as the format went. Again, they worked hard and did a nice job. Most of our prep is towards something relative to what Pittsburgh does, although we did a couple of things separately."
The third preseason game is widely viewed as the game that most-closely resembles a regular season matchup, but regardless, Chiefs QB Alex Smith kept everything in perspective, describing this weekend's exhibition game.
"You'd love to win all of these preseason games," Smith said. "But in the end, I think the development and the execution on the field are the most important things. Yeah, we want to win every game, but in the end, no one is remembering the scores of these games."
The player responsible for protecting Smith's blind side is Chiefs LT Branden Albert, who described what he does to improve his play, as well as his teammates', especially during preseason games.
"Lots of things," Albert said. "Concentrate on what we need to concentrate on and figure things out. Work together, listen to what our coaches are telling us and figure this thing out. We have no choice. We have to protect that quarterback and we have to win games. Some of these guys are trying to do what they're trying to do, so that's what we're working on."
As for the defensive side of the ball, a staple throughout all of preseason, Chiefs LB Akeem Jordan evaluated the overall status of the team, heading into Saturday's game.
"I think we're coming together nicely," Jordan said. "Special teams, offense, defense, I think we're all gelling together and getting to know one another throughout these practices and preseason games. I think we're coming together as a family."
As for the newest member of the Chiefs, OL Ricky Henry (#65) shared how his new teammates have welcomed him into the family.
"The guys have been good," Henry said. "Helping me out with the plays and getting the playbook down. I'm trying to be a sponge and get stuff down as fast as possible. They're all hard-working, smart players."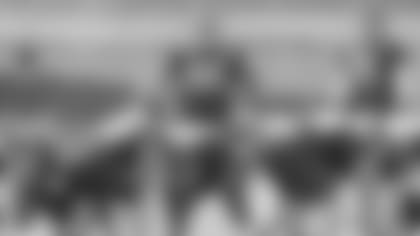 Like all of his Chiefs teammates, it didn't take Henry long to describe an Andy Reid-led practice.
"Quick tempo," Henry said. "I like it. It's fun. We're just going in and getting work done and doing what we have to do."
Remaining on the Chiefs "to-do list" is continue in meetings, a travel day tomorrow and by Saturday night at 6:30 PM CDT, showcase the work performed this week against the Pittsburgh Steelers, en route to a hopefully-victorious plane ride home.
ICYMI: Here's more from Chiefs QB Alex Smith, who talked about his new WR A.J. Jenkins.