It's still a little too soon to talk about this year's Super Bowl matchup between the New England Patriots and Los Angeles Rams for any Kansas City Chiefs' fan, and that's because the Chiefs were right there with a chance to be playing in this game for the first time in almost five decades.
The sting still hasn't worn off.
That rings true for fans, players, coaches, and especially Chiefs' Chairman and CEO Clark Hunt, who spent most of his Friday morning making his usual rounds on radio row prior to the Super Bowl.
After numerous radio and television interviews, Hunt took a few minutes to speak with Chiefs.com on the phone about a number of topics—ranging from his thoughts on Patrick Mahomes' MVP chances, Hunt's own love of ketchup—continuing a viral storyline based on an interview Mahomes did with ESPN's Seth Wickersham earlier this season, and also Hunt's thoughts on how things are shaping up for the future of the franchise.
So, here are some things I learned from our discussion—organized in a Q&A format:
On Patrick Mahomes potentially winning MVP:
"Well, it would be very exciting for the franchise, as well as for Patrick and his teammates. He had an incredible year and he really exceeded our expectations in almost every way. He was as good a leader as he was a player on the field, and I think he's very deserving of the Most Valuable Player honor."
On Mahomes' love for ketchup:
"I told [Mahomes] after I heard about his love of ketchup that I've always been the same way. I love ketchup, and definitely, any time I have a steak, I'm going to have it with ketchup. I shared with him a story - when I was about nine years old, I was with my parents in France, and we were at a very fancy restaurant. I asked for ketchup with my steak, which I didn't know was a no-no in France. So, the waiter brought it out and promptly dumped it into my lap. We had a good laugh about that, and it's great to know that there's a fellow ketchup lover on the team now."
On Mahomes picking Hunt's over Heinz:
"Yeah, even though we're not related to the Hunt's ketchup brand, I think it was appropriate that if he was going to pick one of the two, that he goes with Hunt's and not Heinz, who is a big sponsor of the Steelers."
On Tony Gonzalez and Johnny Robinson's potential enshrinement in the Pro Football Hall of Fame:
"When you think of Johnny, you think of another one of those great players and leaders from the Super Bowl teams and really just the early days of the American Football League. He was absolutely one of the best players during that era, and it's hard for me to believe that, at this point, he's not already in the Pro Football Hall of Fame. We're very grateful that he has the opportunity to be elected to it tomorrow, so hopefully, it will go that way.
"With Tony Gonzalez, he's one of the very best players to ever play for the franchise and is certainly deserving of being a first-ballot Hall of Famer. I was speaking with somebody today and we were talking about the different eras of Chiefs' football, and Johnny was a member of those great teams during the 60s and early 70s, and Tony Gonzalez was part of the franchise during the 90s into the 2000s when we had some very good teams. Hopefully, we'll have Patrick Mahomes honored as the MVP, who really represents the present of the franchise.
"It could be a very special evening for us all the way around to have all three of those eras of great Chiefs' football recognized."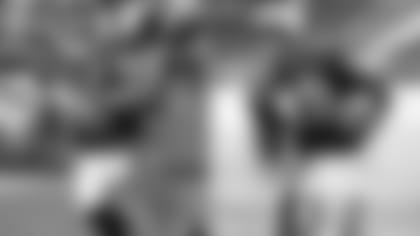 On seeing how Andy Reid and Brett Veach have worked together:
"I've been very pleased with the way their relationship has developed. They've had the benefit of having worked together for many, many years back when both of them were still with the Eagles, and then Brett was part of the organization when Andy came to Kansas City, but since Brett assumed the leadership role of General Manager, I couldn't be more pleased with the working relationship between the two of them.
"I think they complement each other very well. They both have their own opinions on issues, but they know how to work together and get to a decision that's the best for the Kansas City Chiefs."
On why he's optimistic about the future of the franchise:
"Well, first of all, we're fortunate to have one of the best head coaches in the National Football League in Andy Reid. He's a tremendous offensive mind and we're able to pair him now with a true franchise quarterback in Patrick Mahomes. Those two elements are really first and foremost, but we also have a number of other great players, both on the offensive and defensive side of the ball, and when you have that collection of talent – with a lot of it being young – you really give yourself a chance over an extended period of time to be successful, and hopefully, win that AFC Championship Game and make it back to the Super Bowl."
On what aspect of the offseason he's most looking forward to:
"I think where we'll have the biggest change will be on the defensive side of the ball with the change of defensive coordinators to Steve Spagnuolo. That's something that we really won't be able to fully evaluate until we start playing games next fall, but as soon as the players come in for OTAs, we'll get a sense for the system that he's going to run and how the players that we have – both returning players as well as players that we'll acquire through this years' draft and free agency – how they'll fit into that system. I think that's probably what I'm looking most forward to."
On what the communication process is like between himself, Reid and Veach with major offseason decisions:
"I would say that we're not necessarily talking more (than the regular season), but obviously the subject matter really changes. During the season, it's a lot about the team's performance in recent weeks, the challenges that we're facing with the upcoming opponent and any kind of player changes that we can make during the season that will maybe give us an edge or fill a hole created by an injury. When you get to this time of year, it's much more broad strokes and significant changes that you can make to the roster or significant changes that are going to happen because you have players that are going to leave in free agency.
"I wouldn't say that the quantity of conversations increases, but really the subject matter and the topics that we're looking at, that's really what changes."