Earlier this week, the Chiefs donated boxes of shirts, nine computer monitors, 11 desktops, eight keyboards and other items to Operation Breakthrough, a non-profit organization, which serves over 400 children daily from the Kansas City metro.
"The Chiefs donated these items to Operation Breakthrough as a way to give back to an organization that does so much for our community," Chuck Castellano, Chiefs Community Relations Manager, said. "We have a long-standing relationship with the group and recently, we had some items we were unable to fully utilize, so wanted to ensure they were given to local youth in Kansas City who could really use them."
During the summer, Operation Breakthrough houses youth from kindergarten to fifth grade. The students receive breakfast, lunch and a snack every day and can be at the facility from 7:00 a.m. to 5:30 p.m.
The organization will be using the monitors in the classrooms and giving the computers to students to use at home. The t-shirts will be used as a reward for exceptional test scores and to keep the children motivated.
"It's so great to have these t-shirts because these kids just think they are big time when they get to wear a Chiefs shirt," Lee Duckett, with Operation Breakthrough, explained. "We'll give the shirts as rewards for good scores on their reading comprehension tests that they have been taking this summer, which measures how they are doing and helps improve their reading skills."
The mission of Operation Breakthrough is to help children who are living in poverty develop to their fullest potential by providing them a safe, loving and educational environment. Operation Breakthrough also strives to support and empower the children's families through advocacy, referral services and emergency aid.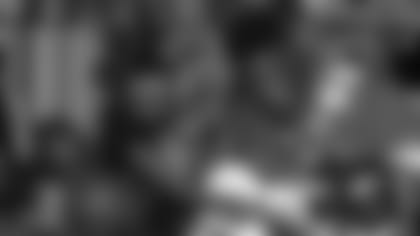 "The Chiefs and Operation Breakthrough have worked together for many years," Duckett explained. "Clark Hunt has sent some of our kids to summer camps, the Chiefs Women's Organization donates gifts during Christmas, the Chiefs rookies come every year to teach the kids; we are so fortunate to be partners with the Chiefs organization and love receiving donations from them."
To donate to Operation Breakthrough, visit their website. The organization is always looking for shirts, jackets, non-perishable food items, etc.
"We are so grateful for any donations we receive, it means so much to these kids," Duckett said.