On a day that was thought to be strictly headlined by the arrival of South Carolina DE Jadeveon Clowney, Missouri DE Michael Sam and more defensive stars, Saturday morning saw guys on the other side of the ball turning some heads.
One day after Michigan OL Taylor Lewan met with the media, forecasting a hopefully-impressive on-field workout, he fulfilled his goal. Lewan registered a 4.87 40-yard dash that later had him tweeting obvious approval. Also impressive was Auburn OL Greg Robinson, who bench pressed 225 pounds 32 times.
As for the much-anticipated arrival of Clowney and Sam, both players' press conferences packed the media room inside Lucas Oil Stadium.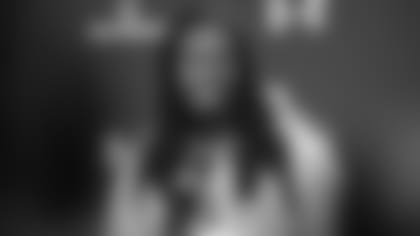 Clowney was first to the combine podium and was quickly asked about his work ethic in 2013.
"I believe I did work hard," Clowney said. "You pull out any practice tape from last year and you'll see that; that's what I told them. I'll tell everybody that. I will always be working hard. No matter where I end up, I am going to work hard and give a team everything I've got."
Not long after Clowney finished his press conference, Michael Sam stepped in front of the cameras and offered an opening statement, before entertaining questions.
"Good afternoon," Sam began. "My name is Michael Sam. I play football for the University of Missouri. As you may know, Missouri is the Show Me state and you'd think I'd have shown you guys enough, these last couple of weeks, but I'm learning with the media, you guys still want more, so ask your questions and I'll answer them to the best I can."
Sam led the SEC in 2013 with 11.5 sacks and 19 TFLs and to his preference, he was later asked  football-specific questions, including his thoughts on being labeled a "tweaner".
"I'm a pass rusher," Sam said. "If you put me in a situation to get the quarterback, I'm going to get the quarterback. Whoever coaches or GMs, this league is a passing league; I'd like to believe in myself as a good pass rusher."
In addition to the defensive linemen and linebackers, who met with the media on Saturday, some offensive players also made their way to the press room, including Texas A&M WR Mike Evans, who gave two crucial ingredients every receiver needs to have in order to succeed in the NFL.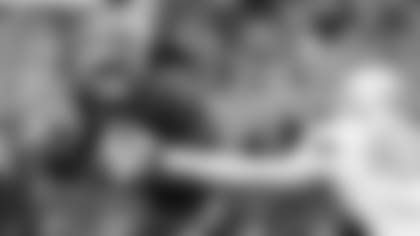 Like Evans, Clemson WR Sammy Watkins was available for questions on Saturday; the former Tigers receiver, who is expected by many to be the first pass-catcher drafted, described what he's able to offer any NFL franchise.
"For me, I think I can do just about anything on the field from wide receiver to running back to slot," Watkins said. "I can make plays, all over the field. What I love doing is dominating defenses. I think that's what I bring to the game and I think that's going to turn over to the NFL. When I come into the NFL, I think I can be that dominant receiver."
The day wrapped up with the players completing their media sessions by 5:00 pm ET, followed later by individual interviews, per team requests.
On Sunday, while it's the defensive backs who will meet with the media, all eyes will likely be focused to the on-field drills, completed by the QBs, WRs and RBs.
2014 NFL Scouting Combine: Day 1
2014 NFL Scouting Combine: Day 2