The Kansas City Chiefs close out another week of OTAs today, with practice starting at 11:20 am CDT.
If today's practice is anything near what they have been like, competitive and energetic throughout, Chiefs head coach Andy Reid and his staff won't be disappointed.
As for the team's QB Alex Smith, he's pleased with the team's progress, including Chiefs WR Dexter McCluster.
"I really do think they're all doing such a great job," Smith said. "If I had to pick one, for me not knowing much about Dexter McCluster, and coming in knowing that he was kind of the running back/receiver and seeing how fluid he is, going in and out of those roles, is really impressive for me to watch. It's easy to talk about in the meeting room, to say 'Hey let's put the slot receiver and run routes and be natural and then put him back in the backfield.' To be able to do a multitude of things, it's another thing to see it live. He's a special guy, and I think he's really taking it on."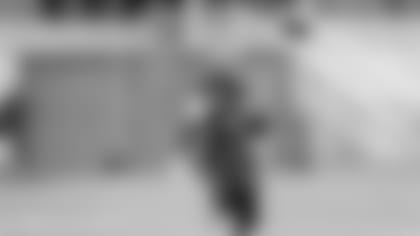 As for McCluster, he's ready to be plugged in where coach Reid needs him to help the team.
"Take it as you want it," McCluster said. "If I'm a receiver, if I'm a running back, if I'm a kick or punt returner, that's what it's going to be."
McCluster also offered his opinion of Smith.
"He's a good quarterback, great quarterback actually," McCluster said. "A guy that's mobile. A guy that knows how to read defenses and knows how to find mismatches and get you the ball."
A few lockers down from McCluster is Chiefs WR Mardy Gilyard, who has been impressive during OTAs.
Gilyard has also been a bolt of energy on offense and on Wednesday was in competitive banter with Chiefs CB Brandon Flowers, as the two debated whether a sack would've occurred during a particular practice play, had the players been in pads and without restrictions.
"Flo was talking about a play and that the QB isn't going to be able to get away, but I was like, 'We got Alex Smith back there,' he's a different kind of QB. He has an arm like Peyton Manning, he has accuracy like Manning, but the one thing that Alex Smith brings to the table is, that boy can run too and he's going to show that throughout his career."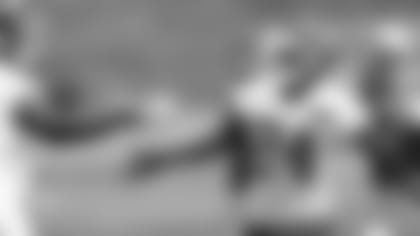 Flowers offered his take.
"The offensive guys are trying to give me a little chatter on the sidelines over there and I love it," Flowers said.
"It keeps me energized for practice. I'm working the receivers, so both of us are getting practice on each side of the ball. At the end of the day, that's what it comes down to, we're competing out there; nobody's taking a play off, so, if I have to talk to raise my game out there, that's what I'll do."
Gilyard shared his opinion of who should be labeled Wednesday's winner at practice.
"Offense," Gilyard said. "I think offense, without a shadow of a doubt, we had too many big plays."
Regardless of who won, Gilyard agrees with Flowers about the most important result at practice.
"It's all about competition, here with the coaches," Gilyard said.
"It's beautiful when it's not a landslide on any end, whether the offense is kicking butt all week through practice and then the defense doesn't have a good day, that's bad, that's bad football. I want our defense to be able to challenge us. I want our defense to be able to beat us because that helps us go to the table and figure out what we did wrong, correct it and go out there and win the next day and then give them something that they can take to film, sit there and correct and come out with us."
Competition brings out the best in players and that's exactly what the Chiefs coaching staff and fans are waiting for, trusting those players will lead the club to the playoffs and beyond.