The NFL has been a leading force in the fight against breast cancer for years, and took that effort a step forward last month with the "Crucial Catch" initiative.
The Kansas City Chiefs joined that fight by sharing the stories of seven cancer survivors and honored them during the Chiefs' Crucial Catch Game against the Pittsburgh Steelers.
And a classmate's mother took it one step further off the field to honor the nine-year-old.
"I knew that he [Burkhart] was going to be featured during the halftime show," Amanda Poole, who has a daughter in Burkhart's class, said. "But when I got to the game and saw the Crucial Catch cards I thought how incredible and knew my daughter would love to have one."
As the game went on, Poole started thinking how special it would be if the entire third grade class had a card to support Burkhart.
"I just started asking people if they weren't going to keep their card if I could have them," Poole explained. "The fans were great and they started picking some up and handing them to me."
At the end of the game, Poole and her friend walked up and down aisles collecting cards left behind until they had enough for all of Burkhart's classmates and a few extra.
"We probably collected about 45 Crucial Catch cards," Poole said.
And the next day, Poole's daughter gave them to Burkhart at school.
Burkhart handed the cards out to not only his class, but the other third grade class across the hall.
"I think every kid wrote Aiden's name on it and they took a big class photo," Poole said. "He even autographed some of them."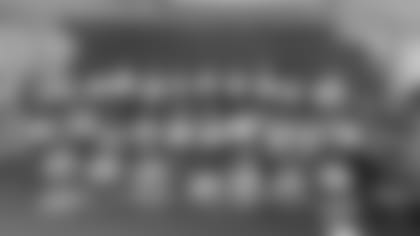 Poole said she wanted the kids to make him feel special, especially because they've been friends with him for a long time.
Her daughter has been in the same class as Burkhart since kindergarten.
"I don't know if any of them knew him while he was going through his chemo, but I think they all are aware that Aiden had battled cancer," Poole said. "And it was something special to support him and show him they are all great friends."
A few days later, Poole stopped by the classroom for the first time since the class received their own Crucial Catch cards.
"He came up to me and personally thanked me, which just about made me cry right there," Poole laughed. "He is the most polite, sweetest boy I've ever met."
While Poole honored her mother, who was diagnosed with Non-Hodgkin's lymphoma, with her Crucial Catch card during the game, it didn't stop her from thinking of a way to support Burkhart.
"I just thought he deserves to be made feel extra special," Poole said.
And with the help of his classmates, that's exactly what they did.