On September 10, the Chiefs Women's Organization (CWO) spent time with a group of seventh and eighth grade girls in conjunction with the City Year program. About 40 girls from Central Middle School in Kansas City, Mo., were chosen based on behavior and attendance for the first month of school.
"A really big thing that City Year does is that we focus on relationships and role modeling," said Selina Rios, senior impact manager for City Year. "To see the women in the organization, to be toured around by the cheerleaders and to see how they carry themselves are really good examples of how to grow up and how to model after women like that."
Following the CWO lunch, several members of the organization met the girls inside the Sports Lab. Their time was spent learning about healthy choices, body systems and exercise, the brain and nutrition's effects on the body.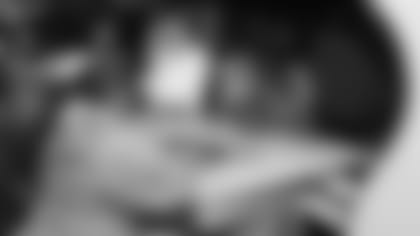 "I think it's super important for them to be able to get outside of the small bubble of around the school and things like that for their social and emotional learning," Rios said. "Having the special attention on them, you can see that they carry themselves a little bit better and they introduce themselves more and things like that."
City Year's partnership with the Chiefs and the Hunt Family Foundation began in April and made it their 27th city partner. Kauffman School and Central Middle School were chosen as the program's pilot sites.
"Three things that we as a family are most focused on are children, education and hunger, so this fits perfectly within the definition of helping kids succeed in school," said Tavia Hunt, wife of chairman and CEO Clark Hunt. "We are very excited that City Year has made its way to Kansas City, and that we can partner together with them to impact this community and try to keep these kids in school so they can have a successful future."
City Year is a national service organization whose members range in age from 17 to 24. Members work full days at area schools as tutors and mentors in an effort to support troubled or at-risk children and their teachers' efforts at school.
"On a lot of different levels, I think the Chiefs are really important to Kansas City," Rios said. "So when you have these girls who are born and raised in Kansas City and just learning what City Year is, then seeing that the Chiefs are also invested in them, they start to take note."
"It's a great pleasure to be able to get out there and give back and make a difference," Hunt said. "As an organization, people should know how passionate we are about this city and giving back to it. We love it, we love our fans and we're so grateful to them for making the Chiefs what they are."