There are few things in this world as fundamentally despicable as childhood cancer.
It interrupts what should be a joyous time in a child's life with unthinkable circumstances, robbing them of what it means to be a kid.
Kansas City Chiefs' cornerback Steve Nelson and wide receiver De'Anthony Thomas had a chance to do something about that on Wednesday when they surprised 11-year-old Kaiden Lunn, who is battling two forms of leukemia, during a tour of Arrowhead Stadium.
"He's dealing with leukemia and at that age it can be really tough, but he has a family around him that's encouraging him to stay strong," Thomas said. "I feel like today helped with his recovery and it goes beyond being at Arrowhead or meeting Steve and I, it was just about brightening his day a little and I hope he remembers it forever."
Kaiden, who is battling both T-cell and myeloid leukemia, is currently undergoing bone marrow tests and chemotherapy at Children's Mercy.
It's a tough break for anyone, let alone an 11-year-old kid.
His family arranged a seemingly ordinary tour of the stadium to take his mind off of things for a few hours, but unbeknownst to Kaiden, Nelson and Thomas were patiently waiting in the Chiefs' locker room to surprise him.
"This means a lot to me and my family," said Kaiden's mother, Latisha Smith. "We have tried everything to get him to smile, so seeing his smile today really touched all of our hearts and it's truly a blessing."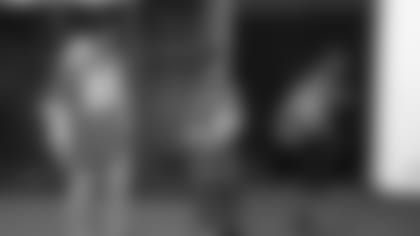 "It means a lot just because of the simple fact that everybody is human," Nelson said. "Everybody can use some laughter and some smiles in their life."
And as familiar faces in a town that cares so much for its football team, Thomas and Nelson are eager to do just that.  
"It's a great feeling because I feel like when I was growing up, I never really looked up to anybody and I always wanted to be that person that people looked up to," Thomas said. "I feel like I've lived up to those expectations so far and I think it's great that I can have that impact on children now."