When asked the last time he had tended to a garden, Demarcus Robinson had to think for a moment before landing on a memory from his childhood.
"Man, I was young – probably around 10," Robinson recalled. "That was back at home in Georgia with my grandma."
A lot has happened for Robinson in the meantime, but as the three-year veteran and five other members of the Kansas City Chiefs visited Stony Point North Elementary's community garden on Thursday, those skills were brushed off in a hurry.
The players – which included wide receivers Gehrig Dieter, Marcus Kemp, Byron Pringle, Rashard Davis and Davon Grayson - helped the kids plant a variety of plants and vegetables in their garden while sharing plenty of laughs and high-fives in the process.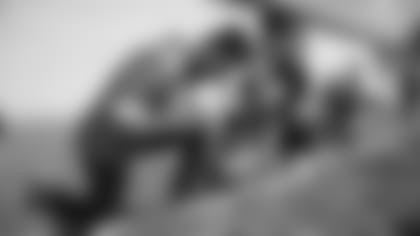 In fact, the afternoon mostly consisted of the kids showing the players how it was done.
"It was a lot of fun digging in the dirt and making it soft with the kids," Robinson said. "We found a couple worms and planted a couple things…it was nice."
The garden at Stony Point North is one of 220 such plots scattered throughout the metro as part of the Kansas City Community Garden's "Schoolyard Gardens" initiative, which strives to teach kids the basics of gardening at an early age.
The Chiefs have partnered with KCCG in each of the past six years, sowing the seeds of a relationship that continued on Thursday.
"The fourth-graders here at this school help take care of these six raised beds - they incorporate it into their classroom and their community – so it was pretty exciting having the players here," said Hannah Ebling-Artz, Kansas City Community Gardens' Schoolyard Gardens Program Director. "These kids talk about the players all the time and actually toured the stadium last fall, so it was so much fun having them here. The kids couldn't believe it."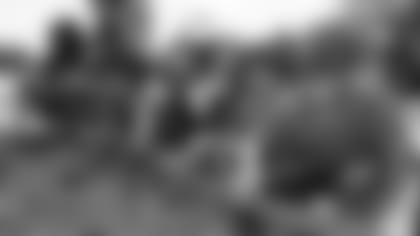 And while the players' skills in the garden may have been a little rusty, their commitment to spending time with those that root for them on Sundays was sharp as ever.
"It's important to give back," Robinson said. "It's just good to come out here and show them that we're real people, so it was fun bringing some of the guys out and showing these kids some love."
To learn more about Kansas City Community Gardens, click here.
The Chiefs Community Caring Team, led by the club's wide receivers, joined Kansas City Community Gardens (KCCG) at Stony Point North Elementary to help students plant a garden at the school.