The Kansas City Chiefs are absolutely loaded at the inside linebacker position.
It's arguably one of the deepest position groups on the roster in terms of youth and talent, rivaling the running backs group on the other side of the ball.
The group is led by 11-year veteran Derrick Johnson, who became the franchise's all-time leading tackler in Week 3 of last season against the Green Bay Packers.
In his career, Johnson has started 141 games and amassed 1,101 tackles, including 69 for loss. He has picked up 26.5 sacks and 13 interceptions—3 of which three were returned for touchdowns—and has 68 passes defensed with 22 forced fumbles and 7 fumble recoveries throughout his career.
Johnson has been a playmaker since he first stepped on the field at Arrowhead Stadium, and he could have gone anywhere this offseason. He was a free agent and had that option, but he wanted to return to the only NFL home he's ever known.
In layman's terms, he's the glue that holds this room together.
Fellow veteran Josh Mauga, who is entering his seventh NFL season and third with the Chiefs, joins Johnson as the elder statesmen in a room full of second-year players in Ramik Wilson, D.J. Alexander and Justin March.
Fans have probably heard all of these names because they've been consistently making plays all throughout training camp, which has impressed defensive coordinator Bob Sutton.
"All of them have shown signs of that—tracking downhill, running through open lanes and making plays," Sutton explained. "A lot of them have potential to be three-down linebackers, which is huge in today's football.
"I think we're all really excited about the progress they've made."
For Sutton, the leadership Johnson provides this young group of players is invaluable, and he's once again showing it at camp this year.
"I think one of the guys that's been really impressive to me throughout the whole camp is 'Big D.J.,'" Sutton noted of Johnson, who is physically bigger than Alexander. "He's had a lot of energy and enthusiasm, and he's highly competitive. When you see a guy of his status come out here with this kind of energy and that he's taking advantage of every opportunity to get better, I think that's a huge thing for everybody."
With three of the five guys in the room all younger than 24 years old, Johnson and Mauga are tasked with providing the kind of leadership necessary to help these guys be ready to step in and contribute if their name is called.
After practice on Monday, Johnson gave a little breakdown of each of the young guys:
"Well, 'Little DJ' is probably our fastest linebacker," Johnson explained. "I hate to say that because I've always been the fastest, but his speed to the ball is unbelievable. He's still young and he's still learning, but his potential is through the roof.
"[Justin] March is kind of a young guy, but he thinks like a veteran. He tries to put pressure on himself to make plays, and that's what I do. So for a young guy to think like that, there's always an upside. He's not working with much for his size, but he's working it well, and he's tough too.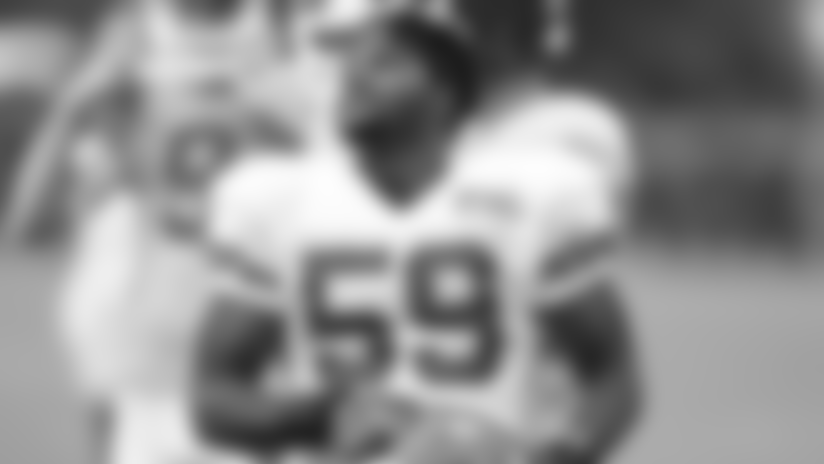 "Ramik's a guy that's very calculated when it comes to making plays. He's smart and he's got good size, and he's been working with [Mauga] quite a bit. They're always talking and he's always ready to step in and make the calls."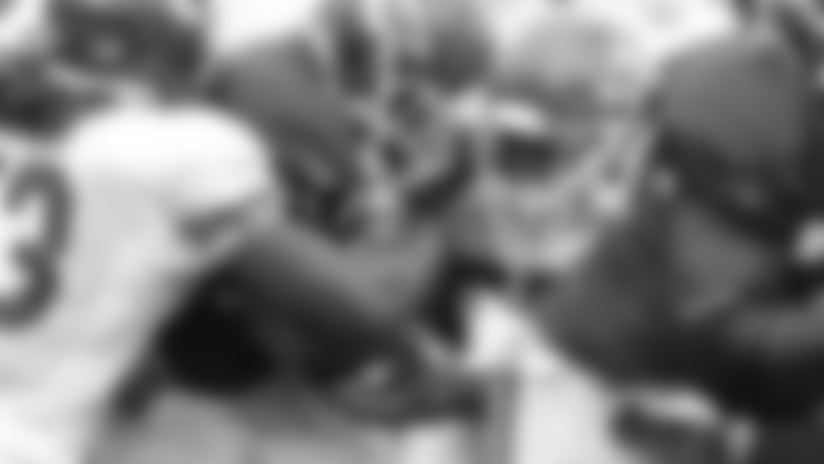 It's one of the more interesting dynamics of any "Mike" linebacker playing next to Johnson, who plays the "Will," or weakside spot. The "Will" linebacker position is all about chasing down plays in space, so despite all of his experience and success, Johnson isn't the one making the calls for the defense.
Johnson has almost lost count of the number of different "Mike" linebackers he's played next to in his career.
Mauga, who previously played for Sutton in New York before signing with the Chiefs in 2014, knew this defense from the moment he arrived. He is comfortable with all of the calls.
Last year when Mauga went down with an injury against the Minnesota Vikings, the responsibility to make the calls didn't move to Johnson. It fell on Wilson—the rookie fourth-round pick who had just 12 total tackles to his name heading into that game—a stark difference from Johnson, who had more than 1,000 to his.
"[Mauga] is very unselfish, so as far as what he sees on the field, he tells [Wilson] everything," Johnson explained. "They're always talking."
With Mauga's help, Wilson was ready to step in and he played well, finishing with 8 total tackles—second on the team only to Johnson, who had 9.
In that game, the front seven of the Chiefs defense frustrated Vikings running back Adrian Peterson, who still won the rushing title last season with 1,485 yards but had one of the worst games of his career that day, finishing with 26 carries for 60 yards and averaging just 2.3 yards per carry.
"After that, I pretty much earned the respect from my teammates," Wilson explained. "If anything happens to [Mauga], we don't skip a beat. That pretty much that solidified it."
Heading into his second year, Wilson feels good with where his game is right now.
"I'm very confident," Wilson explained. "[Johnson] trusts me. Everybody on our defense trusts me and believes in me and knows I'm ready to step up if called upon."
Wilson has learned what it's like playing next to Johnson, who slices through defenses at will and consistently shows people, whether it's at practice or during a game, why he's made four Pro Bowls over the past five years (missed 2014 with injury).
"He'll take all of your tackles," Wilson laughed. "You've got to play fast with him and come to compete."
It's commonly referred to as a "D.J. special." He knifes his way to the backfield, takes down the running back and bows his shoulders as he slowly walks forward. We've all seen it many times before.
When asked if Johnson's success, which includes freelancing and dipping or evading at times, is more instinct or preparation, Wilson went with the simple answer.
"It's a little of both," he noted. "He's so smart. Just the gaps—the gap spacing. He knows it's going to run in the A, B or C-gap with the tackle and guard spacing. [He's telling us to] look at that and be alert. 
"He's just a pro. He has great instincts and that's what we do—we follow the leaders."
For Alexander, the leadership of not just Johnson and Mauga, but from all of the guys in that defensive room, is special.
"They're all like big brothers," Alexander explained. "They want to see us do better and they're pushing us. They're staying on us and challenging us and we look up to them because we want to be like they are."
---
This talented group returns to the field on Tuesday morning at 8:15 a.m. for their 10th practice of camp. For more information, visitChiefs.com/TrainingCamp.