Entering Week 11, the Kansas City Chiefs defense led the league with 36 sacks and following their Sunday night matchup against Denver, the team's total remained the same, now one shy of Buffalo's 37 QB takedowns.
Speaking during his Monday press conference, Chiefs head coach Andy Reid was asked if he thinks his team's pass rush has been figured out by opposing teams.
"I don't think so," coach Reid said. "I think he (Peyton Manning) did a great job of getting the ball out fast. To get to the quarterback in this league, it's not only having good people to rush the quarterback, it's a joint effort. You have to make sure you make life rough on them, as far as covering the receivers. He was able to get us a couple of times. His third-down production wasn't very good; his quarterback rating was well below what he normally played at. We gave our offense a great opportunity to start the second half with three in-and-outs, right in a row, bang, bang, bang. We didn't take advantage of that offensively. We lost the field position battle there, but we were right in the position to take care of business and we didn't take care of business. I think he made the adjustment to get the ball out as fast as he could. It wasn't his best day. To answer your question, going back on the turnovers, yeah, we want turnovers. We had three chances, legitimate chances to catch the football and there was pressure on the quarterback. He had to make adjustments to get the football out fast and we were there to make the interceptions. They were just low scoops that you have to make. Those are the tough ones, but we're very capable of doing that."
Kansas City Pro Bowl LB Derrick Johnson, who finished Sunday night's game with five tackles and one fumble recovery, said the Broncos did pretty much exactly what the Chiefs expected, including Manning's antics at the line of scrimmage.
"That's what they do," Johnson said. "They hurry up and try to see what you're in; they don't really snap the ball quick; they kind of just see what you're going to show, but he made his checks. He did a good job; we stopped him at times, but at certain key times, they beat us."
DJ agreed with his head coach as to why the Chiefs weren't able to record any sacks against Manning.
"They had a good game plan and got the ball out of his [Broncos QB Peyton Manning's] hand very fast and he was very smart with the ball," DJ said. "This league is a copycat league, so whenever something is working against you, other teams are going to do it; not that you can't dominate every game, but it's the National Football League and they are getting paid, too. It was a tough loss for us."
Fellow Pro Bowl LB Tamba Hali also credited Manning
"He definitely makes sure he gets the ball out of his hands as quick as possible," Hali said. "On that long touchdown, the ball was out quick. There are no excuses. We didn't rush him well enough to hit him. I don't know the stat, but I know he doesn't get sacked a lot. A lot of guys do hit him; we didn't hit him like we anticipated. We just have to do a better job next time."
Despite the loss against Denver, DJ says the team's confidence won't waver.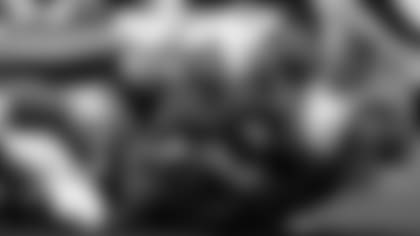 "We aren't going to lose our confidence," Johnson said. "We are a good team. We are 9-1. Right now, we are going to put this game behind us and get ready for the next one."
While the Chiefs faith in each other is unshakable, so is their confidence in the system that Chiefs defensive coordinator Bob Sutton has successfully implemented this season.
"Our game plan was working (Sunday)," Hali said. "We made mental errors. I don't think we need to change what we're doing. We just need to be more aggressive in pursuing the quarterback."
The next QB the Chiefs will be chasing is San Diego's signal-caller, Philip Rivers, who has thrown for 2,989 yards and 19 TDs in 2013, including a 104.4 passer rating.
Preparation for Rivers and the Chargers begins Wednesday for the players, when they return from Tuesday's league-mandated day off.