After the grueling three-day Kansas City Chiefs rookie minicamp concluded Monday afternoon, tryout running back Donnell Alexander stood surrounded by reporters on the Kansas City Chiefs practice field.
Donnell wasn't yet sure if he had achieved what he had set out to do—attain a contract with the Chiefs for 2016—but the media was very much interested in speaking to him nonetheless.
Donnell is the son of the late Derrick Thomas, a Pro Football Hall of Famer and a legend in Kansas City.
"I have memories (of Thomas), but I was quite young [when he played], so a lot of the memories mostly come from film," he said. "When I was in Colorado, I did a camp, and a lot of people came up and spoke to me, and just the way they said that they idolize my father, to me that was amazing because they have no idea really who he is, but for them to just be die-hard fans like that, that shows me a lot."
The 5-foot-10, 206-pound Alexander originally hails from Kansas City, Missouri, and played at both Blue Spring South and Grandview High School before beginning his college football career as a redshirt at Colorado State in 2011. 
In total, Alexander rushed for more than 7,000 yards and scored 95 touchdowns as a high school football player in Kansas City. In college, he saw moderate success at Colorado State (2011-2013) and later at the University of Akron as a senior (2015).
"In college, you do things sometimes," he explained of the transfer. "You kind of sit back and think, 'You know, maybe if I would have done things differently,' but I try to live with no regrets. Like I said, I got this opportunity, so hopefully I took advantage of it."
During the past three days of minicamp, Alexander worked with head coach Andy Reid and very closely with running backs coach Eric Bieniemy, whom he said he grew to admire since Friday.
"I learned a lot from him, just the way he approaches every day," Alexander said of Bieniemy. "He comes out here, he's very professional. He's on you hard. He doesn't take anything less than hard work, and if you're not out there working hard, he's going to get on you."
Alexander said that type of mentality is one he's comfortable with.
"I don't have a problem," he said. "Some players, maybe it might affect them a little bit, but for me, when they are on you like that, you know what he's bringing to the game and if he's going to come out there to compete and be ready and stay on you like that, you have to match his energy, if not excel past it."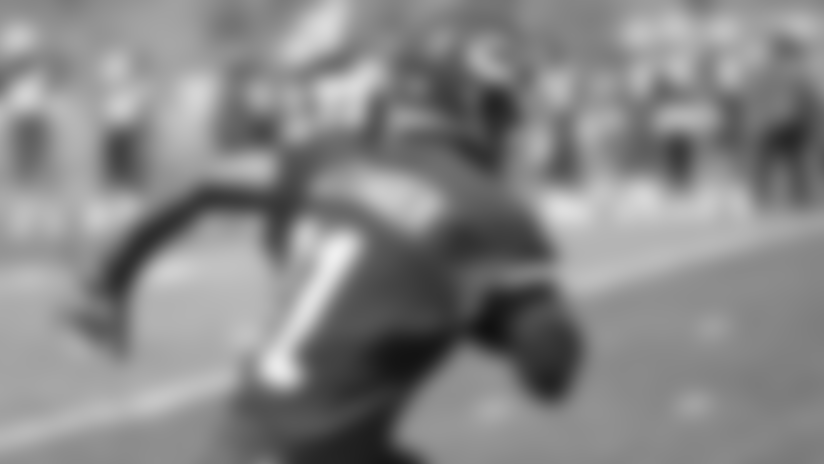 In his press conference, Reid seemed to be impressed with what he saw from Alexander, before focusing on perhaps the most unique physical attribute of the running back—an Arrowhead tattoo located on the back of his neck.
"I thought he did a real nice job," Reid said. "He's actually got a tattoo right on the back of his head there—right on the back of his neck. It's pretty neat, with an Arrowhead and the whole deal. How many guys have an Arrowhead tattoo at all?"
Alexander's Arrowhead tattoo reads, "Made in KC."
With him being the son of Derrick Thomas and one of the best high school running backs to ever play in Kansas City, few would argue with that.
Now it's up to general manager John Dorsey and Reid to decide if Alexander was made to be a Chief.
Other local tryout nuggets
Marquise Cushon, wide receiver, Pitt State, Raytown High School
On the opportunity:"Andy Reid has always been my idol from Philadelphia, and hearing him talking in meetings, it's almost surreal to me, but it's definitely an honor being here back in my hometown."
On walking up and introducing himself to Reid at the local pro day: "Since it was my first time meeting Andy Reid, and like I said, I'm a big fan of Andy Reid. He was one of my idols from Philadelphia. I was a big Philadelphia fan, and obviously, he was the head coach and had a lot of success there. The first opportunity I had to meet him face to face, I just took it straight ahead first."
On whether the Chiefs have talked to him about a contract: "No, not right now. They said they would give us a call, but as I said, there are other teams also interested, and the road doesn't stop. You just keep on grinding and I'm going to keep on being an inspiration to the youth in Kansas City and being a youth leader and mentor to a lot of guys who have inspiration to do what I'm doing."
Garrett Griffin, tight end, Air Force, Louisburg High School
On the difference between the pro and college game: "In college I ran the no huddle, we didn't have a snap count, stuff like that, so it was completely different. There was a huge learning curve for me the first three days. I think we have to really appreciate the mental side of things in the NFL and that's kind of opened my eyes this week."
On whether this opportunity mattered more to him being from the area:"The first day, the owner (Clark Hunt) got up and talked about how awesome the fans are and all the alumni got up and talked about how awesome the fans are, but I don't think you really appreciate that and understand the support unless you're from here. You can start to see it when you play for them, but kind of growing up with it, recently, like the Royals and the World Series, that's how it's been for the Chiefs growing up. You know how passionate everyone is and you know how much they love football."
On working with tight ends coach Tom Melvin: "It was awesome. We'd watch film from when he was with the Eagles and just different teams. He's coached some really good guys and he knows a lot about the game and he pushes you to get better every play and challenges you to really know what you're doing. It's been awesome. It's been a great experience and I've learned a lot from that."
Boomer Mays, long snapper, Northern Illinois, Eudora High School
On what it means to have an opportunity with the Chiefs: "I mean, everything right? NFL, hometown team, you kind of want to show what you got. You only have three days to really catch their eye because everybody can't get drafted."
On what he liked about the pro experience: "Seeing how the coaches are at the pro level, what they look for exactly. More hands on than what you've heard about. Being out here with other players across the country. A lot of them I've seen play on ESPN, so actually being in drills with them and seeing how different guys work. "
Travis Partridge, quarterback, Missouri Western, Savannah High School
On his experience the past three days with the Chiefs: "It was a cool experience. It was something that you dream of as a little kid and you're growing up in this area, is to play for the Chiefs. So that was sort of lived this weekend. It just wanted to come out here and play as well as I could and the chips will fall how they will."
On how his family feels about his opportunity with the Chiefs: "They're excited about all of my opportunities. It's kind of a stressful thing, chasing a dream. There's not really any certainty in it and you're blindly betting on yourself. My family is really excited about any opportunity I get, this one especially."
On working with Andy Reid and Matt Nagy: "They were awesome. I've been around a few coaches now in a few different systems, and they're really patient and did a really good job of just teaching us. It's three days and you put in a lot of stuff in three days, so they do a really good job teaching and really being patient with people."