The Kansas City Chiefs are just days away from the weekend, putting another week of voluntary workouts behind them.
While July still feels like an eternity away and with it, the beginning of training camp, the workmanlike mentality by the players is evident, none more so than Pro Bowl LB Derrick Johnson.
Entering his ninth season, the former Texas Longhorns LB and first-round pick (15th overall) of the 2005 NFL Draft, is back at One Arrowhead Drive, participating in the workouts and also talking about what the new Chiefs regime means for the 2013 season and beyond.
"It's a very experienced group, very proven group, with all the different coaches that came aboard," Chiefs LB Derrick Johnson said.
"It's another opportunity to make a splash or get that ultimate goal and that's to win the Super Bowl. That's what we do this for, that's why we have all the changes with the coaches, players or whatever we have going, trying to win the Super Bowl, so, whatever it takes with the regime we have in now, there's a lot of optimism, there's a great opportunity to do something great and I definitely want to be a part of it."
The frustrating 2012 season is in the rearview mirror, but it does have many fans wondering if the Chiefs are in a rebuilding mode; not as far as DJ's concerned.
"It's definitely a reloading year; college is always for rebuilding," Johnson said.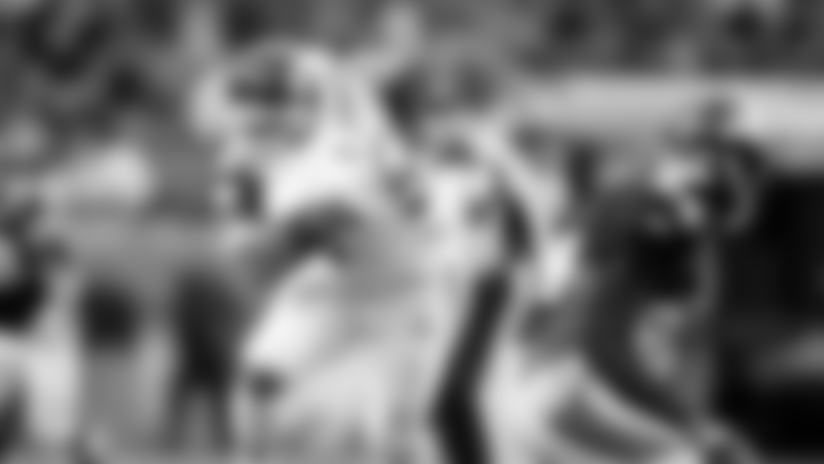 "This is a league (with) a sense of urgency to win every year, regardless of what your record is; everybody's pro, so you never know what can happen. It's one of those things where, we're all pros and as long as we get everybody on the same page, with all the new things we have going on, we'll be a pretty good team."
It's been said that a team will only go as far as the quarterback can take it; if that's true, how does the team's QB on defense feel about the Chiefs new signal caller on offense, Alex Smith?
"He's stepping into a big role in being our starting quarterback right now and QB is a big position on any team and it takes leadership to be that," Johnson admitted.
"It's one of those spots that, not many people can do it. It's a lot of pressure that comes with that spot but at the same time, it's positive pressure because the guys around him, we believe in him, we're all in with him and hopefully on the defensive side, we can make it convenient for him by holding people to less points and doing our part and everything will work out for him."
For a player achieving as much as DJ has, two Pro Bowls, team MVP and more, some may wonder why he chooses to participate in voluntary workouts; two words - team leader.
"You have to build team camaraderie," Johnson stated.
"In the NFL, it's different from college, where everybody is going to class together (and) everybody's together. That's what you have, but here in the NFL, people have their own lives. People are 30-years-old, people are 22-years old, people are married, people are unmarried, some have kids and some don't, it's one of those things that you have to work even harder to build that team camaraderie in the NFL."
And if you're not convinced that DJ is still as hungry for success as when he entered the league in 2005, he left our conversation with this telling response.
"I'm very excited for training camp; I can't wait," Johnson said.
"These (OTAs) are times where I'm like, 'I want to put on some pads; I want to hit somebody' but right now we can't do that. We just have to have helmets on and run around in shorts but it'll come soon enough and then, the real deal will be here."