After 11 years together with the Philadelphia Eagles, Donovan McNabb and Andy Reid will once again come together for a game on Sunday.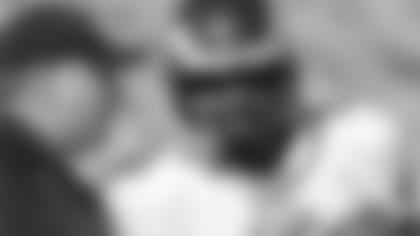 But for McNabb, this won't involve throwing touchdowns.
On Sunday, McNabb makes his debut as a game analyst for the FOX TV broadcast of Chiefs-Rams. It's only fitting that he'll call his first game for the coach who drafted him with the No. 2 overall pick out of Syracuse back in 1999.
But it isn't just Reid that McNabb is familiar with on this Chiefs staff, which was apparent for anyone around the facility when McNabb showed up on Friday morning.
Coach Reid has surrounded himself with a lot of guys he coached with back in Philadelphia and even guys who played with McNabb during his career.
There were a lot of smiles, hugs and laughs as McNabb made his way onto the Chiefs practice field Friday morning.
"For [wide receivers coach] David Culley, [offensive coordinator] Doug Pederson and [quarterbacks coach] Tom Nagy, you're happy that they're all happy and having success," McNabb explained. "When guys move on, you just want nothing but the best for them.
"I think for me, when I look at guys like [assistant defensive backs coach] Al Harris and [running backs coach] Eric Bieniemy, who I played with, to see them comfortable in what they're doing, it's good to see them kind of spreading the wealth a little bit now. They were teachers while they played."
During his 11 seasons in Philadelphia, McNabb was named to the Pro Bowl six times and was the NFC Player of the Year in 2004. He said he can't help but follow what Reid and the Chiefs have been doing in Kansas City.
"I follow them to see what the big fella's doing," McNabb said with a smile. "Obviously, we have a tie together. We played 11 seasons together and had a lot of success in what we were able to do in Philly. You kind of see that now building up with him with Alex (Smith).
"In just talking to Alex, he's excited to have [coach Reid] here obviously and what he's been able to do for his career got him some more money in his pocket. But again, I kind of keep an eye on all the coaches that did something in my life and my career. But I'm happy to see Andy Reid is just kind of settling in."
When asked what he remembers about Reid's offense when he first arrived in Philadelphia as a rookie more than 15 years ago and how it may be different now, McNabb said it has evolved. 
"When people think of the West Coast offense, they just think of what Bill Walsh was able to distill in Joe Montana and Steve Young," McNabb explained. "It has kind of evolved now where everybody adds their own little input. You cater around to what you do well and I see now they've changed a little bit. They're more balanced running the football with Jamaal Charles and Knile Davis.
"The Chiefs have somewhat of the pieces we had when we were in Philly when you have Dwayne Bowe, a bigger receiver with a tight end that's athletic, that can get downfield and some other key pieces in some key roles. But I think for the way the game is played now, it's about being methodical. Not so much of the big play, the "wow" effect. You have to continue to move the ball down field and set up for maybe a big play but it's not just come right out and put bombs away."
According to McNabb, one thing that hasn't changed about coach Reid is his ability to let the players be themselves.  
"He's always been like that," McNabb explained of Reid preaching for guys to show their personalities. "The first part of his coaching is to set the tone—be a disciplinarian. Make sure people understand his method and once they understand his method, it's more or less let the guy actually be free and I think that's the most important thing."
In his regular season playing career, McNabb played at Arrowhead Stadium three times with the Eagles and walked away with two victories, although he stopped short of saying it was anything but difficult.
"I had success here but this is the worst place to play," McNabb said with a smile. "When you go to a hostile environment, you want to bring your best." The Chiefs will look to do that on Sunday against the Rams as they fight to get over .500 for the first time this season.