At 6-foot-3, 346 pounds, Kansas City Chiefs nose tackle Donari Poe is an absolute force.
When you watch him on film, you see he is a legitimate problem for opposing centers, and since that's where a team's offense begins, he's also a problem for opposing offensive coordinators. There always needs to be a plan in place for how to stop him, or he will ruin your game.
It happened in Week 3 against the Miami Dolphins, when Poe sacked Ryan Tannehill twice and in Week 8 against the St. Louis Rams, when his two hurries and four tackles made sure that Austin Davis was never comfortable.
Off the field, he's quiet and unassuming, a gentle giant, certainly not an attention seeker. But when he does speak to the media, like after the announcement that he would be making his second straight Pro Bowl appearance, he's polite, humble and truly grateful.
"It's an honor. I thank the fans; I thank anybody who had a part in it," he said in late December. "It is great for me to be going there for the second time in a row. So it's a tremendous honor."
At last year's Pro Bowl, Poe, in a situation he's familiar with, up against Chargers quarterback Philip Rivers, he grabbed a ball out of the air after Rivers was hit while he was throwing. Poe returned the ball 42 yards before being tripped up before the goal line.
Poe says that this year he'll be looking for a second opportunity.
"I hope I get another one," he said. "This time I need to take it back the whole way."
The amazing thing is that at his size, you would think that an interception return of or around near 50 yards wouldn't be possible. But along with the 300-plus pounds comes a raw quickness, which we saw in the Chiefs' game against the New York Jets.
Vick, one of the speediest players of the past decade, rolled out to his left after being flushed out of the pocket. Poe, his big frame and all, sprinted and chased down Vick, forcing him out of bounds. It was a play of pure athleticism that even head coach Andy Reid took notice of after the game.
"You're watching a great athlete in Michael [Vick]," Reid said. "I love watching him play when he's not playing against us. Dontari Poe is something, he's something special. He can run, he can jump.
"He can kind of do everything. He's that kind of a player. You've seen that year after year here since he's been in the league where he chases down screens and then you saw him do it with Michael Vick. Michael hasn't slowed down an inch here so that was quite an accomplishment."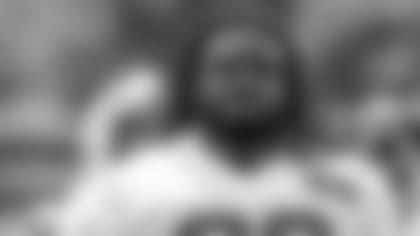 On four plays this season, Poe lined up as a fullback in the Chiefs offense for an additional big body to block. There's no fabrication when Reid said he can do it all.
Poe is the middle man of a Chiefs defensive line responsible for 14 of the team's 46 sacks this season, and his value is enhanced by his reliability.
In a league full of weekly injuries, Poe has stayed healthy and he rarely gets tired. He played in 89 percent of the team's defensive snaps this season.
Being a club's first-round draft pick always comes with a certain pressure. Poe, drafted by the Chiefs with the 11th overall pick in 2012, has evaded that in his first three years and has lived up to the hype.
Three years, 47 starts, 109 tackles, 10.5 sacks, a willingness to do it all and a win-first mentality.
The anchor of the Chiefs defense.
Photos of Dontari Poe from the 2014 Season