"Just continue to study film and be humble, and I'll be good."
That's the message Kansas City Chiefs second-year playmaker Tyreek Hill shared with the media during his press conference last week.
Hill, the 2016 fifth-round pick who was named a unanimous All-Pro returner last year as a rookie, didn't waste any time this offseason getting ready for his follow-up performance.
Hill stayed in Kansas City over the offseason—training daily with the other receivers who also stayed in town. His focus was on improving his footwork, route-running and knowledge of the playbook.
"I don't want to just be this fast guy on the field," Hill explained of his decision to stay in Kansas City over the offseason. "I've just been here grinding."
Hill finished last year with 61 receptions for 593 yards and six touchdowns receiving, adding 24 carries for 267 yards with three touchdowns on the ground as well. He also led the league by averaging 15.2 yards per punt return, and by forcing 30 missed tackles on returns last year.
But perhaps the most impressive statistic that properly illustrates the playmaking ability that Hill brought to the NFL last year was his average yards per play on touchdowns scored.
It's a number that seems right out of a video game.
Overall, there were 13 players in the league last year who scored at least 12 touchdowns, and Hill, who tied for seventh-most by scoring 12 in total (six receiving, three rushing, three returning), led the NFL by averaging an astonishing 44.2 yards per touchdown.
When it comes to game-changing ability, which can be defined as the ability to score from anywhere on the field at any time in a variety of ways, there wasn't a player in the league who rivaled Hill in this way.
The next-highest player in that regard? The Pittsburgh Steelers' Antonio Brown, who averaged 20.5 yards per touchdown on his 12 scores last season.
Here's a look at all 13 players in the NFL who scored at least 12 touchdowns last season and what the average distance scored was on those plays:
That is a quantified reason for why Hill was the NFL's most dynamic and most exciting player last season.
When asked about that dynamic ability, Hill shows a youthful humility and shrugs it all off as a product of hard work, his teammates making things happen around him and a coaching staff putting him in good situations.
But Hill's playmaking ability wasn't lost upon his peers either.
Last week, Hill was named to the NFL's "Top 100 Players of 2016," coming in at No. 36 on a list that's voted upon by current players.
It meant something to Hill to see his name on that list.
"I got chills, man," Hill explained of when he found out. "I mean, it's your rookie year, and you see your name (on the list), I mean, your peers and people you played against put you there.
"It's just great. I'm hoping to be higher next year, but I've just got to keep grinding."
With the news of veteran Jeremy Maclin's release earlier this week, the spotlight on Hill and his ability to take that next step in his career has never been brighter.
Standing at just 5 feet 10 and 185 pounds, there are those who doubt Hill's ability to handle everything that comes with potentially being a team's top target.
It's not something Hill is worried about.
"It's all about what's in your heart," Hill explained. "Steve Smith—same height as me and he's a dog on the field—so size doesn't really mean anything to me. I just go out there and ball and do my job."
Smith, who spent 16 years in the NFL with the Carolina Panthers (2001-13) and Baltimore Ravens (2014-16), ranks seventh all-time in NFL history with 14,731 yards receiving.
The attitude and ability Smith used to put together a Hall of Fame-type of career is what we'll have to look forward to watching develop with Hill, who according to Chiefs coach Andy Reid, is on the right track.
"He works hard and he's skilled," Reid said this week of Hill. "Is he still learning? Yeah, he is still learning. I'll tell you that with all the receivers through a couple years here."
Last year, Hill played 418 snaps on offense, which equated to about 40 percent of the total plays. It's part of a storyline that will be talked about a lot as we get closer to the season.
Obviously, with Maclin gone and the production everyone saw from Hill from last season, the goal would be for an increased workload for Hill in 2017, which leads to the question of whether or not that'd affect his dynamic ability in the return game.
Reid, who has a history of working through this kind of situation, said it shouldn't be an issue.
"I have dealt with this with (Brian) Westbrook and DeSean Jackson," Reid explained of his time with the Philadelphia Eagles. "You can balance that out; you can do both. You just have to be aware of their workload and what's going on, but there is nothing that says you can't do both."
At 5 feet 10 and 175 pounds, Jackson, who was a second-round pick by Reid and the Eagles in 2008, is a good comparison for Hill in that way.
In four of his five seasons with Reid (2008-12), Jackson had at least 900 yards receiving.
In his top two seasons (2009-10), Jackson had over 1,000 yards receiving while also averaging over 11.6 yards per punt return. He ranked in the top 12 in the NFL in each category in both years.
And in an interesting connection, the last player to eclipse Hill's ridiculous mark of 44.2 yards per play on touchdowns—was Jackson, who averaged 52.8 yards on his 12 touchdowns for the Eagles in 2009.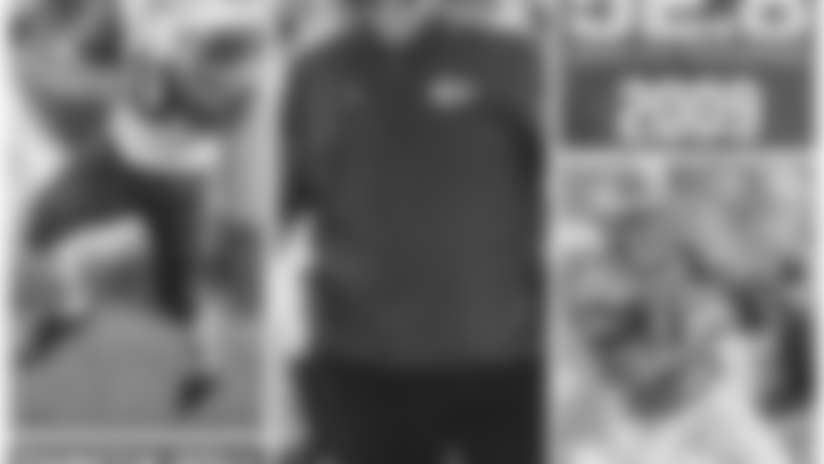 In 2009, Jackson's second year in the league, he averaged 15.2 yards per punt return and had 117 targets on offense, which resulted in 62 receptions for 1,156 yards and nine touchdowns.
So, when Reid said he knows how to handle balancing a player's workload between the return game and what that player is doing on offense, there's a history there to back it up.
Now, with Maclin's departure, the opportunity is there for Hill and a group of young receivers who don't have a member over the age of 24 to step up and help this offense.
"We have a lot of trust in the guys we have here," Reid said earlier this week. "I will tell you that. They have worked their tail off—some of them for this opportunity. They're going to get a little more playing time, and we have full trust that they're going to get the job done."
Coming off an All-Pro season, Hill knows there will be eyes on him by those who are just coming into the league—right in the same spot where he was last year—and as a self-proclaimed "quiet guy," who lets his "actions on the field speak for him," Hill understands his platform.
"I just show the rookies that if you grind hard—even as a fifth-round pick—it'll all fall into place," Hill explained.
For Hill, the mindset moving forward is simple.
"Just continue to study film and be humble, and I'll be good."