It'd be hard to find many NFL coaches more passionate about the game than Kansas City Chiefs running backs coach Eric Bieniemy.
He's energetic, animated and speaks with a reverence that displays the love he has for football, which developed long before he came to Kansas City to teach the likes of Jamaal Charles, Knile Davis, Cyrus Gray, Anthony Sherman and De'Anthony Thomas. 
Bieniemy was a standout running back for the University of Colorado (1987-90) and is the school's all-time leading rusher (3,940 yards).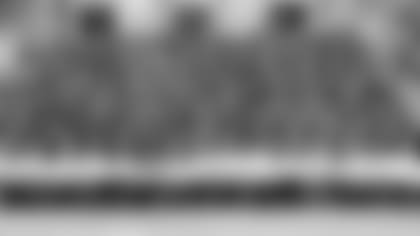 A unanimous All-American and the Big Eight Offensive Player of the Year in 1990, Bieniemy was an instrumental piece of the Colorado Buffaloes 1990 National Championship team. He also finished third in Heisman voting that year.
Because of his stellar career at Colorado, Bieniemy is on the ballot this year for the College Football Hall of Fame, something he doesn't take lightly.
"It's overwhelming," Bieniemy said. "It's hard to even put into words, but it's truly a blessing and the thing is just reflecting on it and you don't realize how fast time flies but it was an unbelievable experience, my four years [at Colorado].
"I wouldn't change anything and just having that experience, playing with the players that I had an opportunity to play with and also playing with the head coach that I played for, it was an unbelievable atmosphere, an unbelievable experience and if that didn't happen, we wouldn't be sitting here having this conversation today."
As a senior, Bieniemy carried the ball 288 times for 1,628 yards with 17 touchdowns, leading the Buffaloes to the championship.  
With all of those yards and touchdowns, the Texas game stands out the most to Bieniemy.
"Coach [Bill McCartney] always refers to that game as the 'Texas turnaround,'" Bieniemy explained. "Our season was kind of on the brink. We were 1-1-1 at the time and we went on the road and were going into a hostile environment. We knew that Texas team was pretty damn good. It was an all-out fight up until that fourth quarter."
"I remember we doubted ourselves a little bit going into that fourth quarter against Texas," quarterback Darian Hagan said.
Before the Buffs took the field for the fourth quarter, Bieniemy rallied both the offense and the defense on the sideline.
"The defense was up against the ropes," Bieniemy recalled. "I just wanted to rally the team up and say, 'Hey fellas, you guys make this stop, we got your back. You go out and get this stop, we're going to take the ball down and score and win this game.'"
That's exactly what happened. The Buffaloes went on to win that game 29-22 behind Bieniemy's two fourth quarter touchdown runs, and they didn't lose the rest of the season.
The Buffaloes' season culminated with a 10-9 victory over No. 5 Notre Dame in the Orange Bowl, which was a rematch of the season before, when Notre Dame beat the undefeated Buffaloes 21-6 and kept them from a national title.
According to Bieniemy, getting so close the year before made the 1990 season that much more special.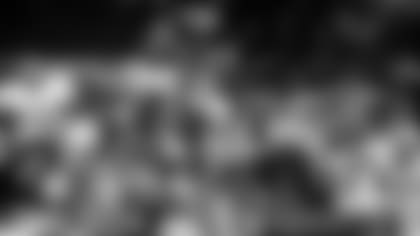 Bieniemy leaps over a pileup of players for a touchdown in the Orange Bowl on Jan. 1, 1990
"I was blessed and fortunate to play with a number of guys who played in the league for a number of years, who at the time, we didn't realize how good we were or how special we were," Bieniemy said. "But we made the most of every opportunity and it started with our head coach.
"He always made sure we never took anything for granted."
Bieniemy said he's blessed to have played at Colorado with the guys he did.
"I always think about all the other players I played with like the Mike Pritchards of the world, the Darian Hagans of the world, the George Hemingways," Bieniemy explained. "We had a special group of guys and we had one common goal. A bunch of us were recruited by many different universities and for whatever reason, we ended up there and we wanted to make the most of it.
"Even to this day, we all get together, you would swear we were all still in college. Some of us still think we can play but a lot of us cannot play at all. We had a unique and special group. That's what made that team special."
Following a nine-year career in the NFL, which included a trip to Super Bowl XXIX with the San Diego Chargers, Bieniemy returned to the classroom to get his degree.
"Other than watching my kids being born, [getting my degree] was probably the greatest achievement I've ever had in my life," Bieniemy explained. "It was important to me because first and foremost, I have two young boys and I have to practice what I preach. "It felt so good just getting that over and done with. It was a personal accomplishment. It was something that I wanted to say that 'Hey, you know what? This is mine.' I always, like everybody else, promised my mom that I would get it done. But also, I made a huge promise to myself that I would get it done as well."